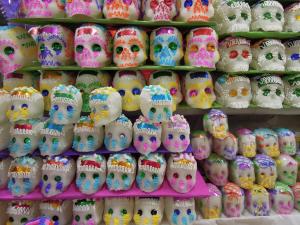 Coinciding with All Saints' and All Souls' Day each November 1 and 2nd, The Day of the Dead (or El Dia de los Muertos) is one of Mexico's most significant holidays. And unlike Halloween -- where traditional costumes are designed to scare away magical and mischievous spirits -- the Day of the Dead is a celebration of those who have died. It honors the lives of lost relatives, friends and public figures and invites time to reflect on those who have passed. It is vibrant and spiritual celebration to experience during a
Mexico trip
.
Dia de los Muertos originated from an ancient Aztec festival in honor the goddess Mictecacihuatl, the Lady of the Dead. Today, Mexican families create colorful altars in their homes. As the holiday approaches, families tend to local cemeteries clearing weeds, laying out flowers, candles and scrubbing tombstones. Special markets appear where locals shop for El Dia de los Muertos decorations: skeleton puppets, sugar skulls, miniature coffins, skeleton puppets and the familiar skeleton masks and figures, known as calacas. Calacas are a significant part of Mexican folk art intended to mock death and overcome the pain of loss. They depict skeletons humorously as noble ladies, drunken merrymakers, dancers, brides and many other roles of everyday life.
During the festivities, family and friends share humorous stories and dedicate short poems, known as calaveritas, to those who have passed -- encouraging the presence of these benevolent spirits. Candlelight vigils light up cemeteries, while cheerful crowds gather to celebrate the dead, listen to mariachi bands, share bottles of tequila and enjoy a picnics with loved ones.
Guanajuato's San Miguel de Allende is a great place to experience the festival. The city is having their first annual
La Calaca Arts and Music Festival
November 1-4, 2012. The four-day, multi-disciplinary event will be integrated in the traditional celebrations of Dia de los Muertos. I know, that date is just around the corner, but now is a great time to start planning for next year's festivities.
Want to go? Experience this culture-rich celebration yourself during a
Mexico tour
.