The remoteness of Patagonia's Torres del Paine allows the park to continue to boast its incredible pristine environment and natural beauty. Because of this remoteness, it is a little adventure in itself just getting to the park. Whether you're coming from Argentina or Chile, here's a little direction on what routes we'll take, and what to expect from your drive to those legendary spines.

From Argentina
Coming from Argentina, your best bet is from El Calafate – about 240 miles + a border crossing. The border crossing can be seamless and quick, or it can cause 2-3 hour delays. Experiences vary. Like the Chile drive, this route is also a combination of paved and unpaved roads. Sometimes flights are more affordable between Buenos Aires and El Calafate (about a three hour flight), than Santiago and Punta Arenas – so definitely keep a look out.

From Chile
From Chile, the most direct route to Torres del Paine is via a flight into Punta Arenas from Santiago; this is about a 4 1/2 hour flight with a stopover in Puerto Montt. Punta Arenas is a good place to spend the night – an active port town. From here, you make the 140 mile (226 km) drive to Puerto Natales (paved road). Once in Puerto Natales, it's another 71 miles (115 km) to the park. Recently, about half of this 71-mile-drive was paved (Route 9 from Puerto Natales to Cerro Castillo near the border). Although, this hasn't really affected the transfer time to the park's entrance – maybe shaving about 10 to 20 minutes off the drive.

Both routes are good options, with similar distances and transfer time (as long as the transfer goes smoothly the border crossing). Most importantly, both reward you with the landscape of Patagonia's Torres del Paine.
Want to Go?
region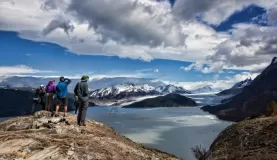 continent