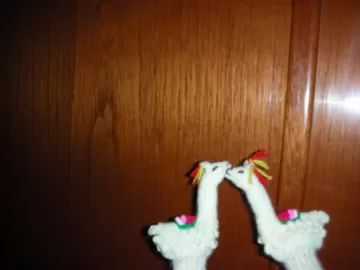 We came to Sayaqmarka \"Standing Town\" and wondered through the ceremonial and resting place. Climbed down to the small houses and looked out over the trail. From here Qoncharmarca was in view and that was our next stopping point. It was incomprehensible when coming to Qoncharmarca and looking back over to Sayaqmarka. The trek is an actual crossing on the tops of the Andes. Mountain hopping. Just incredible to look across and see where I've been and looking ahead to where I was going. When Wilbur pointed out up that range and around that bend... I just couldn't believe I was there.
Now we were getting into the rain forest. The soft moss covered rocks were of all colors; red, orange, yellow, white, brown. Flowers; bomerias, snapdragons, salvia and passion. Cedar trees, bamboo, berries, plants of all types. We came to natural stone tunnels that were cut through on the trail. We heard birds or frogs and saw one of the largest humming birds. That bird was loud...almost like a mini helicopter when it flew by me! Butterflies appeared along the way, almost like they were playing with us.
We camped next to Phuyupatamarka. After resting for a little while we headed out to climb more stairs on Phuyupatamarka. An archeological playground. Our guide took us up to a near peak. The lookout was 360 degrees of mountains and glaciers. We were in the clouds. The sun rained through with unimaginable beauty. Something I've only witnessed on television and I was here! Will never forget all that beauty. When the fog cleared the stars seemed only an arms length away.