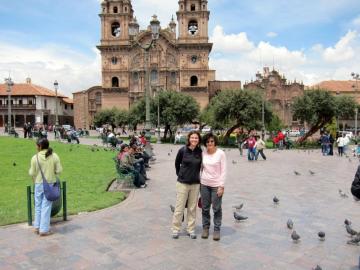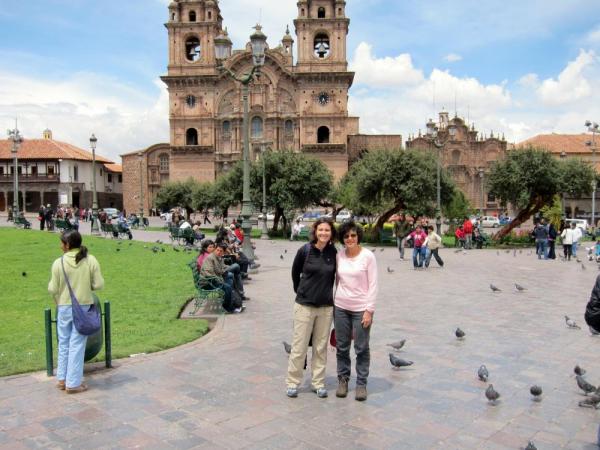 Once again, we woke with our porters, Jaime and Fortunada, "knocking" on our tent and offering steaming hot coffee/tea. Breakfast consisted of delicious cheese and veggie omelets and sausage. (I kept thinking of how careful our porters had to be to hike the trail and not break any of the eggs that they must have carried!) We started the hike around 7am.
Day 3 started off extremely sunny. Day 3 consisted of several "ups" followed by several "downs." All and all, we were scheduled to trek roughly 7 hours.
Unlike the other days, where the trail curved left and right, the trail initially started off pretty straight. We could see our first destination from camp. About an hour up, we passed the Incan ruin of Runkuraqay. Unlike the other ruins we saw from afar, this ruin we could actually go in and explore. After a brief pause and a few pictures (photography- another hidden talent of our great guide Teddy!) we continued on.
As we continued on and up, it was clear we had entered into another one of the microclimates Teddy had talked about. The vegetation went from being green to being brown and barren. We walked past a small lake. The water looked black due to the reflection from the cloudy sky. It grew colder and began to rain. We finally made it up to the top and looked down. The entire area was shrouded in clouds. I was apparently why day 3 was described as "a walk through the cloud forest."
As soon as we began our decent down, the rain stopped. The trail once again twisted and turned. My mom had a hard time with the down portion of the hike. Occassionally, I'd look over to see Teddy, holding her hand, helping her along.
The landscape varied more than then prior two days. Pea-green moss hung from trees and tree ferns sprout from cracks. We'd see large and small hummingbirds buzzing about, colorful butterflies and orchids of every color (over 250 species along the trail!). Waterfalls were very common. Every so often, you'd see ancient Inca ruins peaking out through the mist. Even though the ruins had been discovered long along, I could not help but feel like I had discovered them. It was pretty amazing to think that we were out in the Andes, miles from civilization looking at these spectacular archaelogical sites.
We had lunch around 1pm; I was surprised how quickly the day (and my time on the trail) was passing. Lunch was superb as usual. And as usual, the porters remained behind to dismantle the lunch tents and then quickly passed us.
In addition to the ruins, we passed through two tunnels along the trail. We arrived at camp late in the afternoon. Camp was huge, and slightly civilized, boasting real toilets, a bar and showers!
Although Teddy told me that I'd be able to get cell/internet service at camp, I didn't even check! I did however pay 10 soles (5 for shower, 5 for towel rent) and took what can be described as one of the best showers of my life. (ok, maybe not, the best, but the water was warm!)
For our final night of camping, we had a small celebration for Augusto and our porters. These guys are truly amazing. One of our porters, Fortunada, was 55 years old. He was in better shape than most 18 years old and always had a smile on his face when ever I saw him.
Following our final dinner, everyone went to bed in high spirits. Machu Picchu was only a two hour hike away!