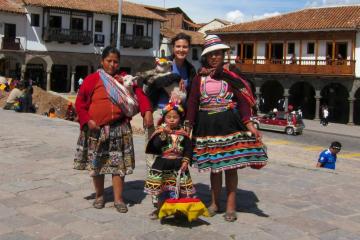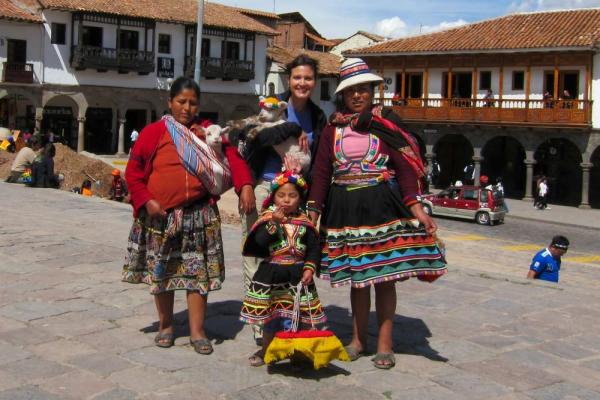 Teddy had asked us what time we wanted to leave for Machu Picchu. I guess we were the only group that didn't want to arrive at Machu Picchu at sunrise. The porters woke us around 7. We left after our hearty meal of pancakes, saying our final goodbyes to our porters.
As we passed through the morning checkpoint, Teddy had to search for the guard. Apparently we were the last group to pass through and he had gone back to sleep hours ago. Although the trail was never packed, it was exciting to imagine that we were the only 3 people on this part of the trail.
Our hike was roughly 3 hours downhill along steep slippery stone steps. There was one final "up" before reaching the ruins of Machu Picchu. This "up" was so steep, we had to go up it on our hands and knees!
We reached Intipunku (the Sun Gate) (and entrance!!) shortly before noon. With the sunlight glinting off the surrounding mountain peaks, the our first glimpse of the mystical ruins of Machu Picchu did not disappoint. The ruins of Machu Picchu stretched out before us like a fairytale. You forget cell phones, internet, ipods and gadgets... time stands still in lost city of Machu Picchu.
I can attest. The view gets better and better with each step (and I think I took a photo from each step). You don't realize how huge it is until you actually begin exploring it. Teddy did an excellent job leading us through Machu Picchu's many beautiful stone terrances, fountains, alters and chambers.
After a few hours of exploring, we were ready take the bus down the switchback road to the town of Aguas Calientes. Teddy was with us to the end, making sure that we checked into our hotel (El Mapi) without any problems.
Teddy was an excellent guide. We couldn't have asked for anyone better. After spending so many days together, we were sad to see him go.
El Mapi was an excellent hotel. Very hip yet environmentally friendly. After 4 days of "roughing it", it was great to have the luxuries of civilization- wi-fi, flat screen tvs, cozy beds and fluffy pillows. All guests get a complimentary pisco sour. I highly recommend a few of these after the hike!
The town of Aguas Calientes is an interesting mix of old and new. It was extremely easy to explore. Our hotel was within walking distance to the bus station (which takes you up to Machu Picchu) and the train station (with takes you back to Ollantaytambo). I was amused to see several Peruvian hairless dogs. These dogs appeared to be strays yet someone had dressed them in a sweater to stay warm.