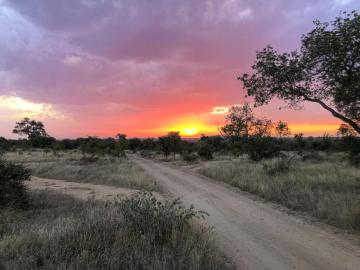 Boma dinners are a component of all southern Africa safari lodges. What is a boma? A boma is a livestock enclosure or corral. For example, if a wildlife reserve were accepting new animals onto its property, it would keep the new animals inside a boma until they became acclimated to their new surroundings and were ready to be released onto the reserve. At safari lodges, the boma is a gathering place where guests meet for candlelit dinners in an open air atmosphere. Unlike in the US where corrals are built of wood fences, the boma is enclosed with tall reed walls. The presence of bomas at safari lodges is mostly for show these days, but they make enchanting dinner spots, lit up by lanterns, candles and a fire pit.
Our last night in South Africa, I was happy to FINALLY have my first ever boma dinner. I was on a bad boma schedule during my two weeks in Botswana and never experienced one. We also didn't hit the right night at Thornybush and Timbavati. Walking in to the boma at Dulini River Lodge, it immediately felt special. One long table, set beautifully with candles and surrounded by lanterns. Boma dinners almost always consist of a braai, which is a South African BBQ. A braai loosely entails grilling food over coals. Braaing is one of the few things in South Africa that cuts through cultural and racial lines. Regardless of language, race, or culture, the love of meat cooked over a wood fire is something that all South Africans share.
Boma dinners also usually involve some form of storytelling, song and dance. After our dinner of grilled everything, the staff of Dulini River Lodge gathered with drums to sing us traditional bush songs. Clad in striking attire, they began to dance in the sand of the boma. Eventually, they grabbed each of us by the hand to bring us into the fold. After we returned to our seats, we toasted the day's amazing wildlife sightings. The purpose of a boma dinner is to bring people together and make friends out of them, which certainly happened tonight.