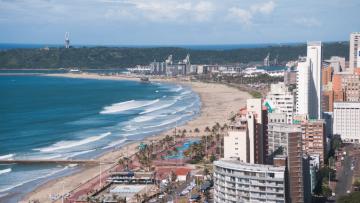 This is my second trip to Africa in 5 months. I wasn't planning on returning so soon, but South Africa Tourism hosts a fantastic travel trade show in May, so here I am. I arrive to Durban after two days of travel, a bit worse for the wear, but immediately pumped up by the excitement in the air. Durban hosts Africa's Travel Indaba every year and they make a big deal out of it. Murals painted across the airport walls, a welcoming party, everyone is excited --- it's time for Indaba!
I'm scheduled to the hilt every day from 7 AM to nearly midnight. Meetings with our existing partners across the continent as well as some 35 meetings with new safari lodges, tour operators in new destinations, ski resorts (not lying!) --- anything I think our travelers might be interested in is in my crosshairs. I LOVE trade shows. I learn more in 3 days than I have in 6 years of planning trips to South Africa. That is how valuable these shows can be.
It doesn't hurt that the setting is Durban. Located up the coast from Cape Town, Durban is on the Indian Ocean, surrounded by lush sugarcane fields. It's a bit off the beaten tourism path (due to its grittiness), but the Maharani Hotel, at which I'm staying, and the conference center, are both modern and lovely. The best part of Durban is the promenade – which is wide, charming and runs along the beach. The morning after the trade show ends, I stroll along the promenade with a huge number of Durbanites. It's Sunday morning and I'm shocked at how many people are out exercising with their friends and loved ones. I spend a half hour out on a pier, watching the local surfers at their craft, before heading back to the Maharani Hotel to catch my Uber for the airport. Time for safari!