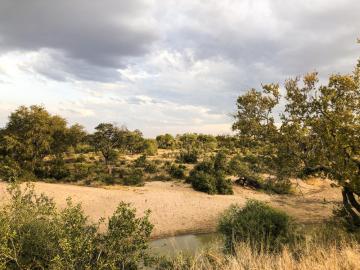 I don't plan a lot of self-drive trips for people in Africa. The bulk of my travelers are North American and they tend to be a bit hesitant about driving in Africa. I won't lie, I was a bit hesitant. I spent 3 months doing my master's research in Guatemala, driving by myself all over the country. But that was in my 20's and it's been a long time since I've been so cavalier.
We picked up our SUV crossover at the Kruger Airport. We loaded our luggage in the car and settled in. I just kept repeating the mantra given to me by my British friends, "when in doubt, stay left". Just about every country in Southern Africa drives on the left side of the road. The first few hours, I was a little timid that I would cause a head on crash. Between driving on the opposite side of the road and trying to help navigate, the 2 hour drive from Nelspruit to Hazyview was a bit hectic. But when I pulled out the second day to drive to Thornybush, I was accustomed to it.
The roads we traversed were mostly good. Highway R40 was in excellent shape, other than the dodging of humans, goats, cows, horses and mini-buses half parked in the road. In the game reserves, roads were mostly dirt and sometimes rutted, but perfectly fine for our little SUV.
In the end, I liked the self-drive aspect because we were able to see more of the landscape, towns and real-life of South Africa. If we had taken small planes between the lodges, we would have missed all of that flavor. We didn't miss any game drives at the lodges because we planned our trip well, making sure that the distances between game lodges could be driven in 2-4 hours, falling over siesta time.
The downside of driving is that is wastes time that could be spent relaxing on safari! Having done a fly-in safari in Botswana and a self-drive in South Africa, I would probably do a mix of both, in the future. I like flying between safari lodges to maximize time, but I like to have a more-adventurous self-drive component of a trip that doesn't include safari. In South Africa, that would look like an extension to around the winelands, Cape Town or the Drakensburg Mountains, all great locations for self drive.