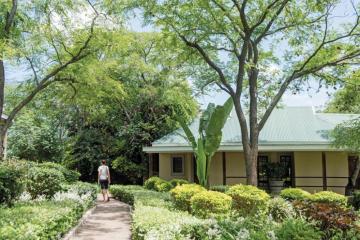 The best known place for safari in South Africa is the greater Kruger area. Generally, it's quite easy to combine Kruger with Cape Town or Johannesburg (where most people are coming from). But I'm coming from Durban, which doesn't see many international tourists. There is, therefore, only one flight from Durban to Kruger Airport (in Nelspruit) per day. It's in the afternoon, which doesn't give us enough time to drive to our first game lodge. We have chosen an easier-paced itinerary and will therefore spend the night in Hazyview, a 1 hour drive from the airport.
Oh! Have you noticed I moved from "I" to "we"!? How about that?! I'm joined by my mother, now. Our mothers do a lot for us. It's time I did something nice for mine. Additionally, my mother is one of my favorite people in the world to travel with. She's directly responsible for my wanderlust, curiosity and cultural interest – I thank her dearly for those qualities.
We have chosen to rent an SUV and drive to our safari lodges. Not the typical arrangements for my travelers, who either have private transfers from the airport to their lodges or fly charter to the local airstrips, but a good value decision for someone with an extra sense of adventure and a lower budget. I find driving on the left side of the road a bit jarring at first, but after 20 minutes I'm acclimated and scaring my mom with the "developing world" driving skills I honed in Peace Corps.
Though we aren't on safari quite yet, we spend the night in Hazyview at Perry's Bridge Hollow Boutique Hotel. It's a lovely 4 star property with cottages arranged around a central pool and garden area. It also boasts several excellent restaurants. All the amenities one could ask for.