Like many countries in Africa, there are both publicly protected areas (i.e Kruger National Park) and private game reserves that usually surround them (i.e. Thornybush, Timbavati and Sabi Sands to name just a few).  We are off to Thornybush first – a very large reserve at 34,600 acres – that's 54 square miles.  Thornybush hosts 14 lodges across the reserve, with a max of 44 vehicles out at any given time.  Nearby Kapama Reserve, the same size, has a maximum of 100 vehicles out and they are limited to driving just the ¼ quadrant they are assigned to.  So if that leopard is spotted in the SE quadrant and your ranger is assigned the NE quadrant – you'll be sitting this sighting out.  At Thornybush, your ranger can go wherever the game is.  You'll find everything but cheetah on the reserve, a very good chance of spotting the Big 5 during your stay.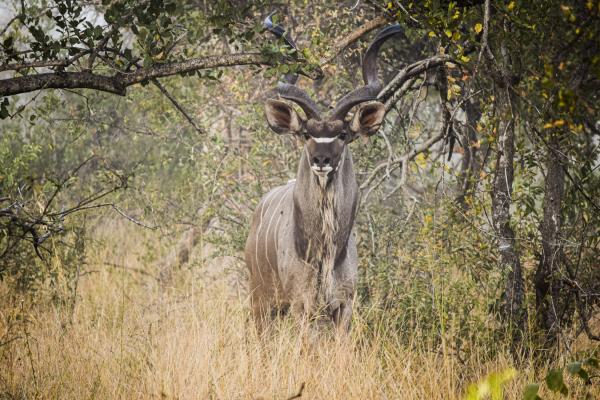 Our home is the newly build Saseka Tented Camp.  Reminiscent of the 5 star tented camps in the Okavango Delta, Saseka has an eclectic, contemporary design with open concept throughout. It's an arresting mix of modern and vintage --- antique furniture, modern lamps, light colors.  Definitely not your typical green and brown (and dark!) safari lodge.  The big, airy tents sport a green, cream and grey color scheme.  
Our first 24 hours is spent visiting each one of the 10 Thornybush Collection properties.  Then, we are set free to participate in the regularly scheduled game drives and bush walks.  Our guide and tracker are keen to show us the wildlife that the reserve has to offer.  We are quick to find a mother rhino and her baby wallowing in mud, as well as elephant, giraffe, genet, hyena, hippo, zebra, impala, kudu, nyala, but no cat sightings.  The other game vehicle saw leopard and lion, but we missed out during the lodge inspections, so we were without a cat sighting at Thornybush, despite our ranger/tracker team's best work.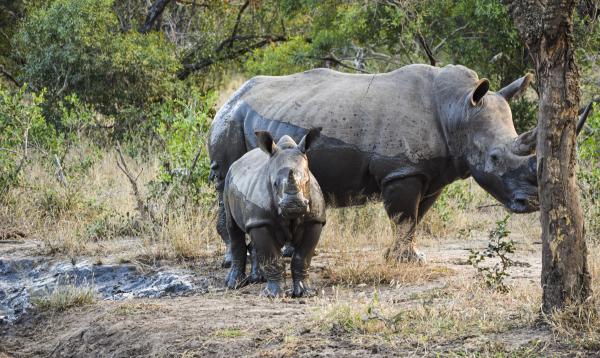 Our ranger did take us on a 1 hour bush walk, which was invigorating.  It was nice to be on foot and moving our bodies.  The vantage point is completely different from being up in the safari vehicle.  We saw a herd of elephant browsing in the dry river bed.  Seeing elephants up close and on foot reminded me of how small and insignificant my place in the universe actually is.