A 4 hour drive takes us from the northern Timbavati to the Sabi Sands.  Most people fly between private game reserves on small Cessna aircraft, but we are self-driving to cut costs.  We manage to arrive, after getting lost only once.  Sabi Sands isn't well signed.  We hear that people like it that way.  Sabi Sands is known for its unparalleled cat viewing.  Some lodges guarantee leopard sightings in the Sabi Sands.   
The first thing I notice about this reserve is that it's landscape is more open, with fewer bushes obstructing the game viewing.  It has more of a savanna feel than Thornybush or Timbavati.  
We arrive to our home for the next two nights, Dulini River Lodge, and are greeted by Ezekiel, our host.  Dulini River Lodge is stunning in neutral tones and clean design.  The emphasis is on relationship: our butlers share with us their life stories and ask us pertinent questions about ourselves, our waiters ask about our favorite and least favorite foods, the chefs present each course with an explanation of where and how ingredients are sourced.  With this recipe, you quickly feel like guests in a friend's home instead of tourists at a safari lodge.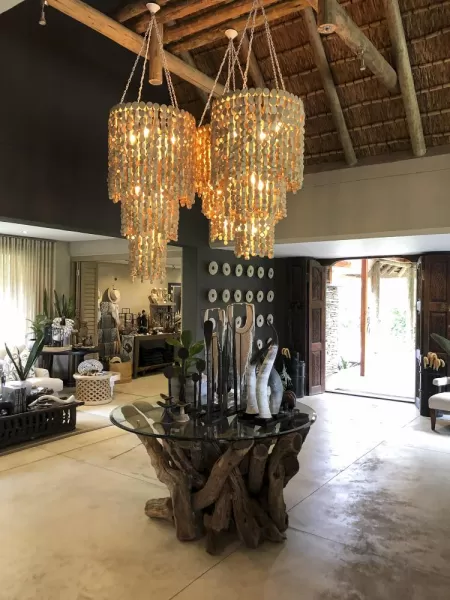 After a deliciously fresh lunch, we quickly shower and ready ourselves for the afternoon game drive.  Our ranger introduces herself (HER!) and off we go.  It is exceedingly rare to see female safari guides in Africa.  Within the first hour of our game drive, I'm starting to realize that Maura is the single best guide I've ever had on safari.  She passes it off as good luck, but in the first three minutes of our game drive we see rhino. Later, we come upon a leopard resting in the grass; his impala kill dangling in the tree above him.  Sundowners are next to a watering hole with rhino, crocs and giraffe within eyesight.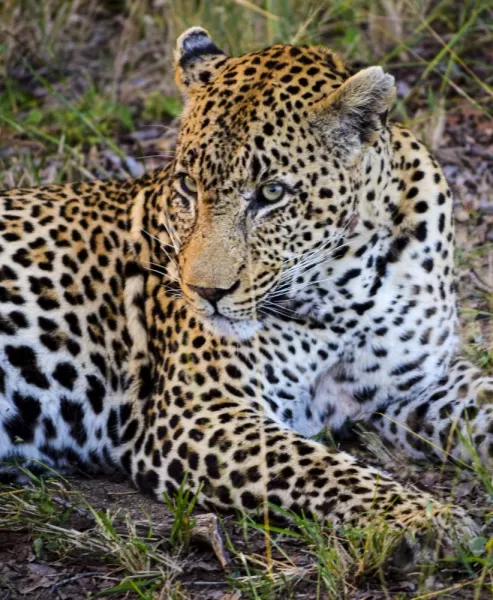 The next morning, I'm hoping that yesterday's luck hasn't run out, but Maura delivers the goods for a second day.  In the morning, we spot two male rhino within a quarter mile of each other, each sporting war wounds from an early morning fight.  One male is resting in a river bed -- a closer look determines that he is grievously injured and probably won't make it.  It breaks my heart to see a mortally wounded creature -- especially an endangered one.  But this is all the ritual of life and death in the wild and one that we can not interrupt.  Better to die defending your territory than be shot by a poacher.  As we explore the riverbed further, we come upon a leopardess and her cub, frolicking in the grass.  The leopard cub spots a nearby rhino and decides to stalk it -- a terrible idea.  The rhino mostly ignores the cub, until it pounces behind the rhino.  The rhino, having none of these shenanigans, promptly spins around and warns off the leopard.  A bit of show on both sides, but no harm done.
We spend the afternoon with a pride of lions lazing in the sun, then our luck increases twentyfold, when we get the best sighting of the trip: the oldest male leopard in the reserve is spotted with an impala kill.  When we arrive, he picks up his meal and looks up a nearby tree, deciding it's time to take it to safety.  The rangers talk among themselves, curious to see if the old guy still has it in him.  It takes a tremendous amount of strength to drag a kill up a tree, which we are about to witness.  I didn't have the proper camera to capture the moment, but I was happy to experience it and get a few good photos from below.  After a short time, we leave the leopard to his own devices and travel back to Dulini River Lodge for a lovely dinner and rounds of drinks.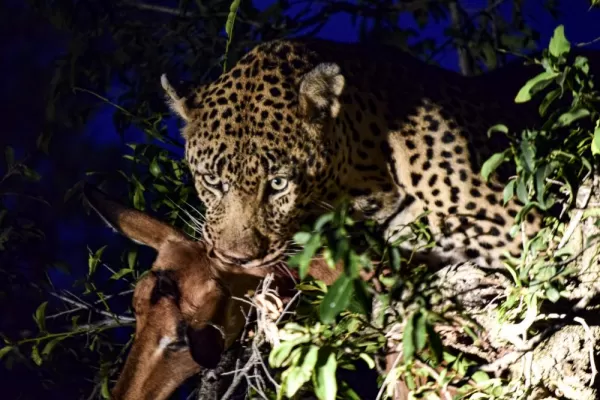 The next morning is our very last game drive of the trip.  Maura wants to deliver something special and asks what we haven't seen yet.  At this point, that's only cheetah and wild dog.  I know cheetah are a long shot, since they favor plains habitat.  We are heading southwest to Richard Branson's Ulusaba Reserve, where dogs have been sighted recently.  Also known as the African Painted Wolf (a more descriptive name), wild dogs are endangered and their numbers are decreasing.  There are 5,000 of them in South Africa and only 400-500 in the entire Greater Kruger network which spans 7,722 square miles.  Finding a pack of wild dogs when their numbers are relatively low in such a large area will be a challenge.  Except it's not for Maura.  Within 20 minutes, we are sharing a watering hole with a pack of over 15 dog with their impala kill.  A smaller pack of hyena are pacing at the perimeter, trying to find a way to steal the kill away. But there are too many dogs and the hyena know it.  
We traverse back to the lodge for breakfast, packing up and goodbyes.  I'm sad to be leaving Sabi Sands, but glad we saved the best for last!  It's off to the airport for one of 4 flights back to Missoula, Montana.