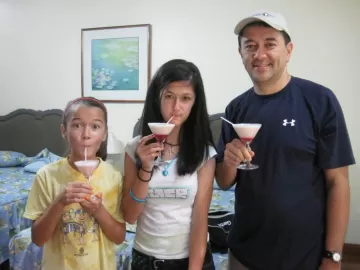 Our sedan service picked us up at 8am to take us to the airport in Washington, DC. Our driver was from Morocco (Yaseen) and we enjoyed conversing about travel and soccer. We both agreed Americans needed to go beyond posh resorts to really enjoy culture! It made for an enjoyable ride.
In the back my teenage daughter was laboring through the early pages of "Life of Pi" - her summer reading assignment. She's a good student but she was definitely NOT excited about it.
We transferred flights in Miami where we were immersed in Español. We finally landed in rain-drenched San Jose and grabbed a cab to the hotel, getting hit by a few Tsunamis along the way from passing trucks. The cab driver was very helpful as I tried some of my "Spanglish" on her.
We were greeted at LeBergerac by the bellhop / jack-of-all trades (Jonathan), whose friendly service is becoming legendary among AL travelers. He had "welcome cocktails" delivered to our room, and after a nice light dinner we all hit the sack for our early pick-up for Tortuguero. Didn't quite feel like vacation...yet.