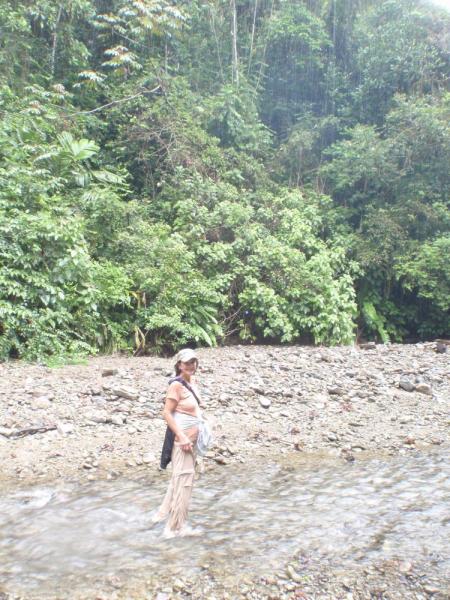 We had breakfast at the hotel which was originally a house and later several houses were connected to it. There was beautiful foliage everywhere and we had breakfast outside on a small patio. (our room had a small patio but we were not able to use it as it rained that morning and the last night we were there) Our breakfast was not only delicious, but beautifully presented. We had fruit, mangoes, papayas and Costa Rica's scrumptious pineapple. I had never eaten such juicy , tasty pineapple before. We had a croissant and scrambled eggs , along with rice and beans(I was to find this a staple and evident at almost every meal). I am not fond of rice and beans, but we had plenty of other food. We had fried plantain and the guava jelly was to die for. Kevin, our waiter, was very gracious.
We wish we had some time to see the city of San Jose, but that will have to be another trip at another time. Alejandro, our driver, who was to take us to Selva Bananito, picked us up after breakfast and we were really starting our adventure. The trip took about four hours. It rained lightly for most of the trip. There was so much vegetation and the highway so narrow that it reminded me of the hedgerows in Ireland. I had never seen so many banana trees in my life. There was a lot of traffic and I admired Alejandro's driving prowess. At one point, he slowed down in a small town and finally stopped by the side of the road. He kept saying, ''perezoso, perozoso''. Since Sarah and I only know a few words in Spanish, we had no idea what was going on. He encouraged us to get out of the van and look. I was almost afraid to get out as the cars where whizzing by. Alejandro pointed to a limb in a tree and there was a sloth. We had just learned a new Spanish word.
We got back into the van and drove a little further before he made a stop at Ellis Cafe about halfway to our destination. Here, our driver ate lunch, and we stretched our legs and found the banos. It was an open, covered restaurant and had beautiful flowers all around. We also saw many palm trees on this journey. Our next stop was in a small town. Again, we did not know what was happening as Alejandro had limited English and, well, you know we had very limited Spanish. He did tell us someone would take us the rest of the way to Selva Bananito, which was about seven more miles on a rough road. Jonathan was there in a small and very old and rugged pickup. He put our luggage in the bed of the truck and covered it with a tarp.
It took us forty minutes to cover that seven miles. There was a plethora of banana trees and coconut palms along the narrow dirt road. When we arrived at our destination, Jonathan carried our luggage to cabin 10. I was awed by the view from our room. I had seen pictures of it on the website, but the real thing was much more awesome. Both beds had a mosquito netting beautifully draped in a circle from the ceiling and there were two hammocks just waiting for us. We noticed CDs hanging from the ceiling and we rightly guessed that was to keep the bugs away, much like a scarecrow. After enduring a drought for several years back home, I was simply overwhelmed with all the beautiful plants and greenery. As I looked out from our deck, there were mountains . It was very humid. In fact, the clothes I wore there never dried and the shoes I wore on my hike to the waterfall stayed in plastic bags in my suitcase for the rest of the trip. My shoes were sour when I finally unpacked them at home. I sprayed them with sol-u-mel and left them outside for several days to dry in the sun. After a few days in the sun, they were wearable once again. But, I digress.
In 1994, the Steen family created Selva Bananito Reserve and built eleven cabanas which are built mostly of recycled wood. No electricity is used and biodegradable soaps are provided for the guests. There was a large extended German family there(about 10 or 12) and a young German couple who were volunteering there. There were also two female French journalists. After lunch, I hiked with several of the young people to the zip line, Justo, our guide who was to be with us our time at Selva Bananito, told me I would be doing the zip line the next day so I just went along to observe. I had never done a zip line before(and still haven't). We hiked for about an hour and it was dreadfully humid. After everyone had done a couple of zip lines, we hiked back to the lodge and there was not a single dry garment on me and my hair looked as though I had just stepped out of the shower.
We made it back to the lodge about five o'clock and I was surprised to find that it was completely dark by 5:30. After a shower, Sarah and I got our flashlights(my youngest son, Cody, had bought me a very nice flashlight for my birthday to use on this trip) and walked to the main open veranda for dinner. The co-owner Juergen gave Sarah and I and the French ladies a video presentation about what his family is doing with preservation there. We had a welcome cocktail served in a coconut shell and snacked on plantain chips which were made by the local women. The presentation was very informative and thorough. For dinner, we had chicken and rice, cucumbers mixed with corn and drank hibiscus juice. The juice served there was not very sweet as we were told most Europeans preferred it not to be so sweet. Others could add sugar. For dessert we had local bananas and pineapple. Local women come and stay for several days to cook and then a new crew comes in to stay. I spoke with Justo about rappelling the waterfall the next day and he said I was the only one there to go and it was a very hard hike. I let him know that my heart was set on doing this. He seemed doubtful that I could make the hike. I decided that I would let it go and not be upset if I could not do it as Sarah was not going to be able to go. However, after dinner Justo told me to be ready to go at eight the next morning and Charlotte and Moma(the German couple volunteering there) would carry the food. Later, I learned they were very glad I insisted on going as they wanted to do it and this was their chance to do so.