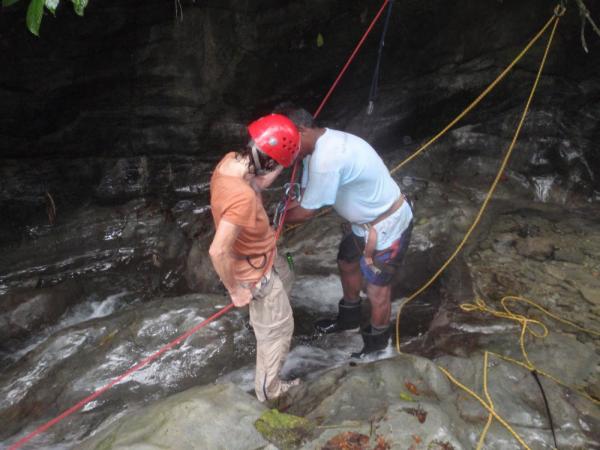 The staff at the restaurant accommodate us with an early breakfast so we could set off on our snorkeling tour. It was very windy. Our driver picked up up at the appointed time and made two more stops, picking up a lady from Canada and a man from Austin, who has a friend living in my hometown. Such a small world! After about a forty minute drive, we arrived at Cuihuita National Park.
We met our snorkeling guide and a couple of female students from San Jose. I thought my spine would come out the top of my head when we rode in the boat because that small boat hit those waves really hard. Did I say it was windy??? The weather had been perfect the day before and was perfect the day after, but this was not a good day for snorkeling. I had a difficult time moving through the water and I did not see many fish on our first outing. We all crawled back into the boat and our guide moved us to a reed on another spot. This was a little easier going and I saw a few more fish. There were many beautiful blue fish. I have to say though, if this had been my first time to snorkel, I may never have tried it again.
We were taken to a spot on land and had a snack of fresh pineapple and trail mix. Three of the people on the boat decided to hike back through the jungle. There had been a misunderstanding about this on my part. I did not have the proper shoes for hiking as I thought we would have lunch and then hike through the park. Sarah and I waited at the entrance to the park for about two hours before the hikers returned. It was a Sunday and the beach was very crowded even though the weather was not nice. Several reggae looking guys were kicking around a soccer ball and one guy was playing in the water with his dog. The wind was whipping up some big white caps.
Our driver took us back to the lodge. We decided to go back into town and eat pizza again and pick up another souvenir or two. The main street going through town was jammed with traffic and people. I think all the locals, plus all the tourists, were there. I kept thinking we would see a car wreck at any minute. We ate and waled to a grocery store to pick up a few snacks. It had started raining. I bought a bag of plantain chips which I really came to like. We ducked into a tourist office and waited for a while thinking it might stop raining. We did not have an umbrella and it did not seem as though the rain would stop so we had Kendra call a cab for us again and we went back to the lodge. The frogs sang all night again.