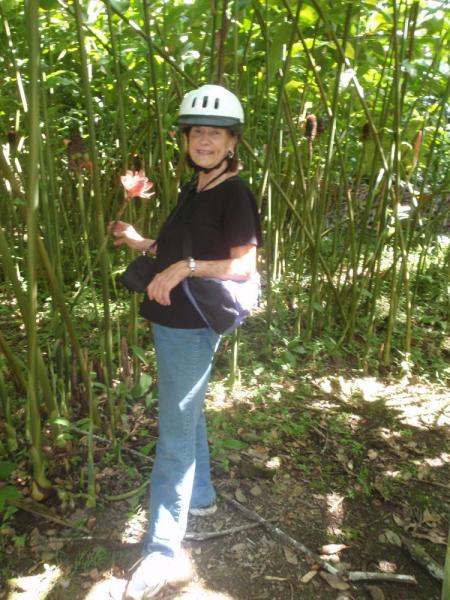 Sarah and I had decided we would spend the day in Puerto Viejo and do some shopping and just relax. It was a Saturday and the streets were crowded. I listened for howler monkeys that morning, but did not hear any. We walked to the restaurant and I drank a cup of hot tea and Sarah drank coffee while we waited for breakfast to be served. We were brought a plate of beautiful fruit - mango, pineapple, papaya and watermelon. The pineapple was juicy and sweet and so delicious. We also had a rambutan on our plate. I had never seen or heard of this fruit before. The name means hairy. It is from southeast Asia. It is magenta colored with green hairy legs. I thought it looked like a cockle burr. Inside, the fruit is clear and gummy. It has a huge seed in the center. It had half of the outer peel cut off. It looked pretty, but I did not know how to eat it. I did not think it had much flavor and not much fruit so I did not think it was worth the trouble. We had scrambled eggs, hot bread and butter and that delicious guava jelly.
R.J. Called a cab for us and told the driver to deposit us at a certain place in the town. He gave us the names of two restaurants. Our cab ride into town was ten dollars. We got there about ten. We had not shopped at all so we had fun going through the shops and seeing all the vendors. There were many people in town and lots of colorful personalities. An older lady was frying something at an intersection and calling out for people to try it. I was on the hunt for a cane as I always bring back a walking cane for my oldest son. That tradition started on my trip to Ireland in 1987 when I bought two blackthorn canes(for both my sons) The hunt for a cane is a fun part of my trips. Sometimes they are easy to find and other times, not so much.
The second shop I went into had four canes. I thought I would look more before I bought one. I really like the rosewood cane with the carved toucan head. As it turned out, I found only one other shop with one cane, so I backtracked and bought the toucan cane.
I bought a few gifts to take back to my family and one of the vendors told us the pizza next door to him was good. It was called the El Parquecito, owned by and Italian. We split a pizza and tried a local beer, Imperial. The pizza was cooked in a brick oven and was quite tasty. We shopped some more. The fast pace of this little town was such a contrast from the solitude at Selva Bananito. There was so much traffic driving on the narrow streets and people were spilling over into the main street.
About four o'clock, Kenra, our waitress called a cab for us. She was such a sweet person and so ready to help these two ladies from Texas. We found everyone we interacted with in Costa Rica to be Texas friendly. We did not have dinner included this night so we each ordered an appetizer as the menu was somewhat limited and the food a bit pricey. Our appetizers were fifteen dollars each. I had goat cheese bread which was good, but very rick. We went to our lodge and I checked to see if my clothes had dried, but, alas, they had not. The frogs croaked all night again. We were to be picked up at 7:45 the next morning to snorkel.