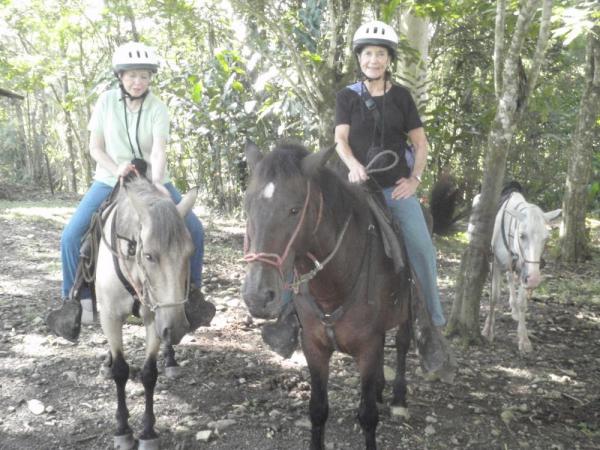 It was daylight at 5:30 each morning and I was always ready to get up and eat breakfast. I had repacked my suitcase the night before and placed my very damp clothes and very wet hiking shoes in plastic bags. After a hearty breakfast of local fruit, scrambled eggs, and, yes rice and beans, we got ready for our horseback ride through the adjacent family farm. Justo was waiting for us at the stables with three horses saddles. He rode Tequila, a white horse. Sarah rode Junior, a buckskin and I rode Guerrero or Warrior.
We passed through several gates and saw lots of coconut palms and coconuts on the ground. Justo pointed out some walking palms and a pink ginger flower, which was breathtaking. We got off our horses a couple of times and looked at the plants. The first time we got off our horses, we realized we were standing in a huge ant bed, but they weren't bullet ants. We saw the cattle there which were a mixture of Indian Cebu and Brazilian Brahma.
After about a two and half hour ride, we were back at the stables and it was lunch time. There was only Juergin, Sarah and myself for lunch. We had spaghetti with fresh tomato sauce and a delicious cheese. I am not a pasta lover, but that spaghetti was delicious. Roland, who was to take us to Puerto Viejo, was delayed a little due to a wreck by a single lane bridge. We said our goodbyes to Juergen and Selva Bananito and started to Puerto Viejo about 2:10. Justo hitched a ride with us to Cuihuita, his home, which was on the way. He also spends a few days working at Selva Bananito and then goes home to take people snorkeling on his boat.
We arrived at Shawanda Lodge about four o'clock. The lodges are set amidst the jungle. Our lodge was beautiful and the plants and trees gorgeously arrayed. We saw a perezoso in a tree by the restaurant. After we checked in with R.J.(who was so friendly and helpful and told us he loved his job), he showed us to our lodge. We lounged by the pool for a bit after we deposited our luggage in our room. There was a bench outside on the covered porch and a hammock. Also, a reading lamp if one wanted to sit outside at night and read.
Our dinner was included and we ate around six o'clock. The resident black and white cat, Ava, stayed by my feet looking hungrily for me to feed her some scraps. It started to rain very hard. We were offered wine with our meal and a small appetizer. Our main course was sea bass and carrots and green beans and zucchini. For dessert, we had ice cream and chocolate. The meal was very good(no rice and beans). We sat and talked and listened to the rain. When we got back to the lodge and showered, we sat outside for a while. The water was turned off at certain hours of the day so we had some difficulty getting a shower and for a day, I guess a breaker was off as we had no hot water. I put my wet hiking shoes on the porch and also some of my clothes in hopes they would dry while we were here. We kept hearing a noise and could not figure out what it was. Finally,we realized it was frogs croaking and they sang loudly all night. I guess they were happy about the rain. This took some getting used to in order to sleep.