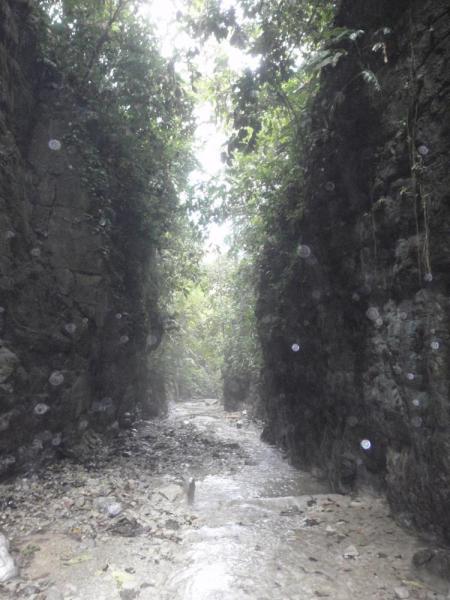 I woke up excited and somewhat apprehensive about the upcoming adventure. After all, I was terrified of heights and did not want to chicken out after reaching the waterfall. Well, that was not an option, but it had me a little nervous thinking I might not be up to the challenge. I put on my pants with the zip off legs that dry fast and a t-shirt and my new hiking shoes which I had never really hiked in before. I had only worn them around the house. I have to say those shoes were amazing walking over river rocks and through the river and jungle. They were Oboz hiking shoes and I highly recommend them.
It started to rain lightly as we left and I was afraid we might not be able to complete the hike. However, it only rained for a little while and then we had an amazing day. I had been warmed that it was going to be a rough hike, but had no idea we would be walking on river rocks most of the time. If you have never walked on river rocks, then you won't know how difficult that can be. We walked about two and one half hours through water and over rocks when we reached the place to head up into the jungle. The path was about two feet wide and in some places the ground was very slippery. Justo warned us to be very careful where we put our hands to assist us on our climb as many trees had sharp thorns and there were bullet ants. I had never heard of bullet ants before. I was told they had the most venomous sting of any insect and the pain, which could last up to 24 hours, was excruciating. Later, Sophie, Juergin's sister, told us of the time an 8 year old boy stepped on a bullet ant nest and was stung twice. She said his screams were awful. I can only imagine.
Charlotte and Moma were so kind and helpful. I am sure all three were wondering why a lady my age was trying this and if they would have to carry her back. This just reinforced my determination to keep up. Justo had to use his machete several times to hack an opening for us. In a couple of places we held onto a rope to go down as it was steep and slippery. When we reached the top, we stopped and caught our breath. My heart was pounding so hard that I though surely they could heat it. Then, I thought what if I am about to have a heart attack because my heart had never pounded like that before. After a few minutes, my heart beat was normal. Justo and Charlotte sat on a large log to take a picture. I also sat down and gave my camera to Moma to take a picture and he suddenly said, ''there are ants there''. We all jumped up and, sure enough, bullet ants were crawling all over the log. ''Thank you, Moma'', for saving us from that horrible experience. Can you just imagine the horror if one or all of us had been stung. Wow-that was a close shave.
We continued on and soon reached the waterfall. Justo proceeded to the the rappelling gear out of his 30 lb. Backpack and set up. Moma was to go first, then me and lastly, Charlotte. I thought what if I get ready to rappel and panic. I knew I had to go through with it , no matter what! I let Justo show me how to put on the harness and helmet and he gave all three of us instructions. It seemed simple enough. Moma made it down without a problem. Now, it was my turn. I gave my camera to Charlotte to take pictures of me rappelling as I wanted proof I had done this. She took many pictures of me. The rappelling was not scary at all and so much fun. When I got to the bottom, I sort of fell backwards into the little pool of water. Moma helped me up and then Charlotte came down. Justo walked around to meet us.
We walked a short distance and rappelled down a shorter cliff. Now, it was time to have lunch. They had forgotten the lighter so we ate cold rice and beans, but we were hungry so that did not matter. Justo cut up some tomatoes and cucumbers and we had lemonade to drink. After lunch, we started on the hour and half hike back to the lodge. I started feeling some fatigue about thirty minutes into our hike.
When we got back, I went to my cabin and showered and put on clean, dry clothes and shoes and felt very refreshed. I was quite elated over my accomplishment. Sarah and I headed to the main veranda and drank a cup of hot tea. The silence was deafening there. The only noise I heard came from the dogs there and a few birds in the morning. It was a treat to lie in the hammock at our cabana and enjoy the solitude.
Our dinner that night was beef, coleslaw, carrots and green beans and fried plantains. We also had a salad of very fresh and tender lettuce and tomatoes. For dessert, we had bananas and chocolate. There was passion fruit to drink and afterward, we enjoyed a cup of decaf chamomile tea. Sophia, co-owner, came in that day and had dinner with us. She was very pleasant and enjoyable. Both owners speak German, English, Spanish and French. The architect of the Selva Bananito and his wife had dinner with us as well. We were to go horseback riding the next morning and then leave after lunch for Puerto Viego and the beach.