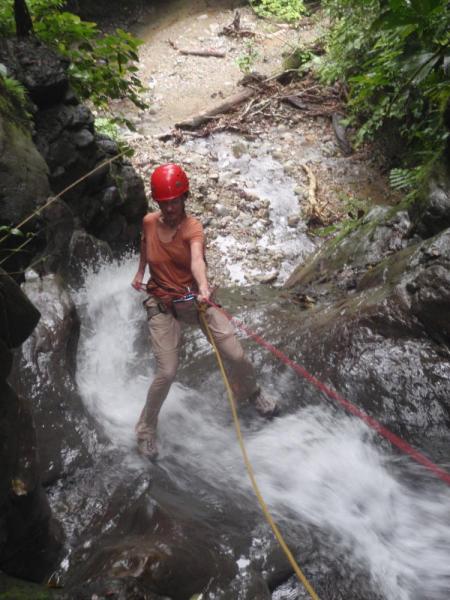 I awoke at four to the screeching of howler monkeys. I kept looking for Tarzan and Cheetah. Our driver was to pick up up at six as we were to raft on the Reventazon River. When we arrived at the base camp to eat breakfast, we found about forty students there ready to raft the Pacuare River, but due to the heavy rains the night before, it was not deemed safe. They were visibly disappointed, but seemed to have lots of fun anyway.
We ate a very hearty breakfast and locked our luggage(and my cane) in the lockers and put on our rafting clothes. We would come back to eat lunch there and then head into San Jose. We were going home tomorrow. Andres was our guide and he was very informative about Costa Rica and a delight to converse with on the way from our lodge to the river. Sarah, myself and one of our drivers who had never rafted before(we all talked him into trying it) climbed into a raft and did some practice moves. When Andres thought we were ready, we headed into open waters. It was a very different experience from my rafting trip in Peru where we wore wet suits and the water was very cold. The rafting was fun. There were about 7 or 8 rafts on the river. However, I was disappointed that there weren't more rapids.
At the end of our river journey, we loaded back into the van, along with the couple from Spain who had ridden with us from Puerto Viejo. Back at the base camp, we changed into dry clothes and ate lunch. We had large tortillas with lettuce, tomatoes, mashed beans, onions, bell peppers, trail mix and cheese. We had cookies with cream and cheese and jelly for dessert. We bought a CD one of the employees had made of us rafting.
After lunch, we bid Andres goodby and got on a bus with about 20 students and started toward San Jose. It was about a two hour ride to San Jose. A couple behind us were from Wisconsin and they both were voting for Romney and were very afraid for our country if Obama were re-elected. They were going on to St. Martin where they have a home. A female student sitting in front of us had many questions for us .
We arrived back at Hotel de Bergerac and checked into the same room we had the night we arrived. We were going to walk a few blocks to a big mall, but it started raining hard so we took a cab. He took us the long way and charged us more than the concierge said it would cost. Also, he was the only person we met who was not very friendly. We walked through the mall and ate a Subway sandwich and drank a light coke. We did not linger long as we wanted to repack our luggage for the trip home. My contents had grown and I had several plastic bags full of damp clothes and shoes.