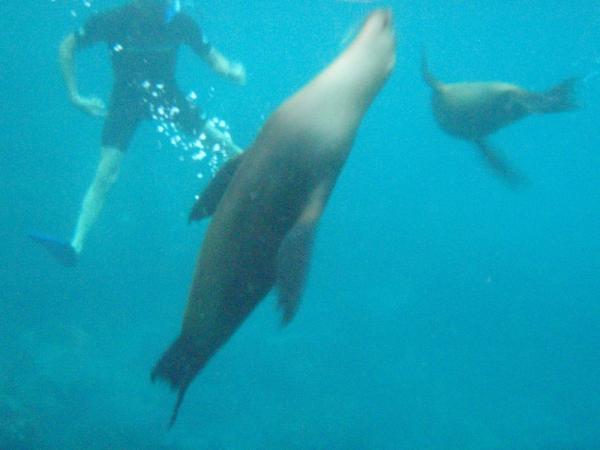 Early this morning we wake for our last breakfast on San Cristobal, then drive the 10- min to the airport. We check in and after finding out we were 100 pounds overweight with our luggage, we all go through our bags and pool together dirty clothes and things that can stay behind to make up the weight. Alfredo arranges for someone to send them onto Santa Cruz to meet us at the end. Next we board our two small Cessna planes – one carrying 5 and another that carries 9. We board and make the 40 minute flight to Isabela Island. Upon approach you can see just acres of black lava rock with small pockets of vegetation and not much else. After landing we travel 10 minutes to our new hotel La Casa de Marita – a beautiful open and spacious beachfront hotel. We arrive early in the morning when our rooms are not completely finished and change our clothes in the communal bathroom to head off for our mountain biking adventure. We pick up our mountain bikes and helmets, adjust the seats to fit, and away we go down the sand street to the trail (that is actually a road) towards the Wall of Tears. We ride along the coast with beautiful views off to the left and then through trees on our way. We stop at some offshoot attractions here and there – fresh water "green" pools, in search of seeing some flamingos. We strike out at every location and keep going after being disappointed at the lack of pink. After about 1 hour or so of biking – mostly flat with some uphill climbs – we come to the Wall of Tears. We get off and go walk around this mammoth structure, built by prisoners to create a compound. The work was halted when an institute head came to visit the project and a rock dropped on his head and killed him. Now the wall is being over run with lava lizards and vegetation – and is a local tourist attraction. Next we climb up to the top of a lookout from where you can see ocean and the beach town of Puerto Villamil that we started from.
We go to head back and I notice that my bike has a flat from rolling over a spine from a certain plant that lies all over the sides of the road. I luckily was able to swap bikes with someone who had already decided to stop biking and ride in the support vehicle, so I continue on her bike. As I rode I paid close attention to not hit the tortoises on the side of the road, nor the two marine iguanas lying in the path! I too of course, have a spill on my bike, committing the #1 error of mountain biking – which is to never look at an object you intend to avoid – or else you will hit it every time! I looked right at a large pile up of sand in the middle of the road, and of course fell into it.
After the ride we return and we have lunch at a local restaurant in town. Next we gear up for an afternoon on the ocean. We meet and walk to the nearby marina where we board our panga and set off scouring some mangrove areas. We spot on a rock outcropping some of the Galapagos penguins – yes living at the equator! We watch them interact a bit with each other and some blue footed boobies before continuing on for another snorkel stop. We stop at a cove which is normally very calm, but this day the sea is particularly rough. We get in while some stay behind in the boat. The snorkeling is amazing with large parrot fish among others. We also have the spot of the day, a large sting ray floating along on the bottom of the floor. We follow it for a while taking pictures before we continue to Las Tintoreras Sendero. Here we see what I imagine the moon or Mars' surfaces might look like. It is a huge field of black porous lava rock with white and green lichen growing all over. We walk along the set trail, and almost in every part we see tons of marine iguanas crawling all over each other, unaffected by our presence. We all get to spot many white tipped reef sharks swimming in the small channel that runs next to the path. We see too a sea turtle out in the cove with a sea lion playing in the channel with the sharks. What a crazy coexistence of life! Off to the right you can see a white sand beach – and off to the left of this tiny islet you see the black sand beach, all in one place! After all this we retire and turn in for the day (seeing a manta ray on the way in right by the boat). After a fantastic dinner at the hotel and a nice walk along the beach, we retire for the evening.