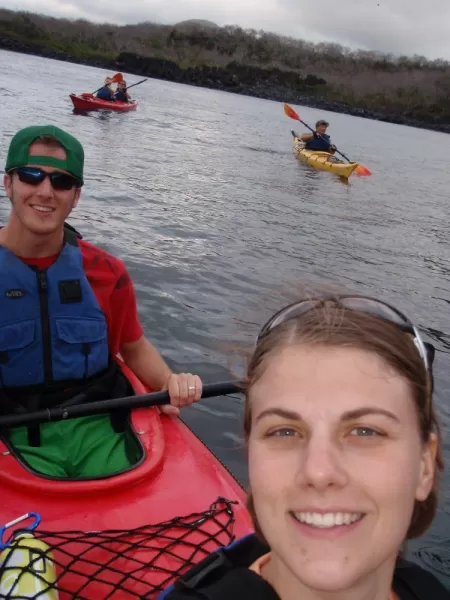 This morning we woke to have breakfast - scrambled eggs and toast with guava jam, which was very good and then prepared for our hike in the morning.
We headed first for the highlands - past the "country homes" higher up and saw the ecosystem change before our eyes as we climbed. Oranges, papaya, corn, cattle, horses, all of this could be seen higher up in the parts that receive more rain. We go first to the tortoise re-breeding center, a project set up to help protect young tortoises so they will make it beyond the precious first 5 years of their lives and grow o become the 100 something year old adult they were meant to be.
As we walk along the trails we see many tortoises- 4 of which took the prize for most entertaining. We watched 1 tortoise walk across their mud feeding area to squat down behind another who was laying peacefully and then started to bite his tail! Even our guide could not explain the reason for it, as it was the most bizarre behavior! The one being bit started to walk away - only to have the one follow in pursuit and continue to bite his tail!
Next we went to climb the tallest peak on the island, a very short and manageable climb up a section of wood stairs. We then walked around the crater lake at the top - spotting frigate birds coming up to bath in the fresh water. The ecosystem up here is very different, lush with plant life, misty,windy and (on this day) foggy. We descend back to the bus and return for lunch - a wonderful local dish called cazuela, and then