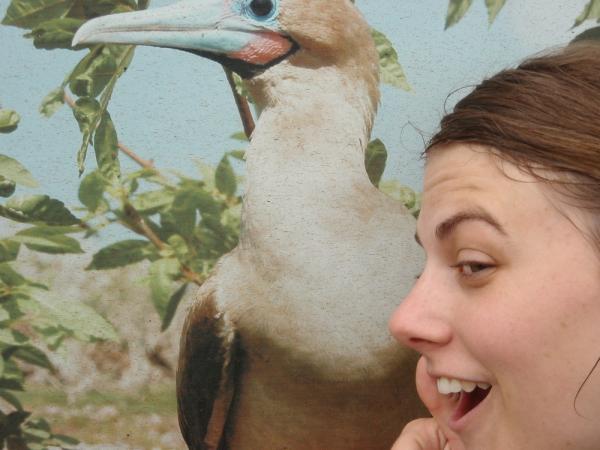 We wake this morning later than originally planned 0 having been informed the night before that our flight to Galapagos was pushed back 2 hours. We head to the airport and meet our guide, Alfredo. he helps us with checking in our luggage and getting our tickets and going through security (which was much easier than any US flights, not having to take off my shoes, and being able o take my water on board).
The flight takes off and just as soon as we reach our peak altitude it seems we begin to descend again into Guayaquil for an interchange of passengers. We are off again and in 1 and 1/2 hours we land on San Cirstobla on an airstrip right along the coastline. The airport is surprisingly modern, although small, and seems to have just been built in the last 10 years. We are directed then to a bus for a quick transfer to our hotel, Hotel Miconia. Here we unload our staff into our simple yet air-conditioned rooms and meet up next door at Hotel Opuntia for lunch.
Upon walking out front we see on the boat launch sea lions resting on the cement slab 0 we walk over to get a closer look and see it is a mama and her baby who is nursing. I quickly think to get the camera and yet at the same time realize that a photo has no hope of capturing the sucking noise that the baby is making! People are surrounding them at only two feet distance to take pictures - and the sea lions don't seem to mind at all. This is truly an amazing place - a walking zoo of sorts.
After a fresh seafood lunch we continue on a short two hour hike through the dry temperate forest nearby. First we walk to the interpretation center built on the island explaining the geological and human histories of the islands. The exhibit is very informative and involved, but we have to hurry a bit to make it, as we got a late start due to the flight delays!
We hike by cacti and many branches of trees (I called it a branch forest), and over lava rocks on a mission to the lookout at the top of the hill from which we can view Kicker Rock (or Leon Dormido). One of the first views Darwin sketched on his first landing here in the cove below Frigate hill. The sun sets on the horizon and we take some amazing shots of the town of San Cristobal with the many boats anchored in the harbor before heading back.
We enjoy dinner this evening, and start getting to know each other, Our group has 11 people total, 12 including Alfredo, and from the first day we started to click very well!
Later on we enjoy a fresh seafood meal including Ahi, rice, and vegies! After dinner Jens and I decide to stroll along the waterfront area at night. We stop for ice cream at a store, stop to see the sea lions still on the boat ramp, and then continue back to the hotel for the evening. The waterfront area on San Cristobal is very nicely done, with stone sidewalks, fountains and planter boxes, looking much more like a main commercial city would decorate its waterfront area.