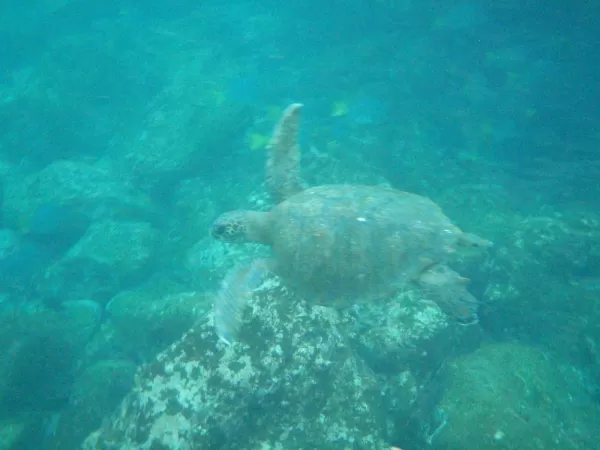 This morning we wake early for breakfast and then gear up for a day on the ocean. We take off in the small boat and head first for Leon Dormido (or kicker Rock). Here we get out of the boat and begin to snorkel the wide channel between the two large rocks. This is a formation that plunges straight down for 30 meters or so, creating great opportunities for wall diving and snorkelers. As we begin, we first notice the colorful barnacles and sea urchins on the wall, then we spot a school of Galapagos sharks beneath us. I try to take a picture of them and am able to capture the outline in one picture getting four in the shot at one time, but they are very deep so we don't see much! A few others in our group had one swim up very close at their level but I was not there to be as scared as they J We spot also a very large sea turtle and follow him around for a while until he decides to leave. Unfortunately we did not have a sunny day (something I anticipated for a Sept trip) so the clouds made the visibility a little lacking, but I could see how with a bit of sunlight streaking through the turquoise water, the pictures and overall experience would have been much better! We also get to spot a puffer fish of some sort, as well as many other multicolored fish.
We pile into the boat and next head around to the northern tip of the island to Punta Pitt. Here we plan to snorkel but the ocean currents are too strong to allow it, so we pull into shore and find a harem of sea lions who seem eager to please as we eat our paella (a hot rice, chicken and seafood mixture that was absolutely delicious).They start doing flips in the water right in front of our boat as if they were dolphins! Here we spend a lot of time taking pictures of the sea lions, the marine iguanas sun bathing, as well as the red footed boobies – which can only be spotted on this part of this island. We also see a few Tropical birds, red beaked with a slender tail, which are a hard one to spot in the islands. We then continue for the long 1 ½ hour boat ride bake, stopping at another cover for a beach walk to see mangroves and a lame attempt at snorkeling (the visibility was horrible on this day). This cove is said to have been used by pirates for coming ashore to stash their treasure, needless to say we didn't find any in the sand, and I was looking for it!
As we drive back and I am watching the sun set beyond the clouds (yes, it it finally peaked out for a few minutes at the end of the day), I think to myself – what an AMAZING place! One where a sea lion will come right up to you and sniff your leg – or a marine iguana would let you get so close to use your macro setting for a close up shot. Nothing can really describe it – except to encourage others to go. To explain a cliff plunging in to turquoise coves with what appears like white paint but is actually bird dropping form the many sea birds who call that cliff home is indescribable – and sounds silly on paper but is truly fascinating in person! To think that cliff has been home to these birds for SO many thousands of years before I was even born or built my home on the earth is truly humbling.
We finish the day with a well deserved ice cream bar and dinner.