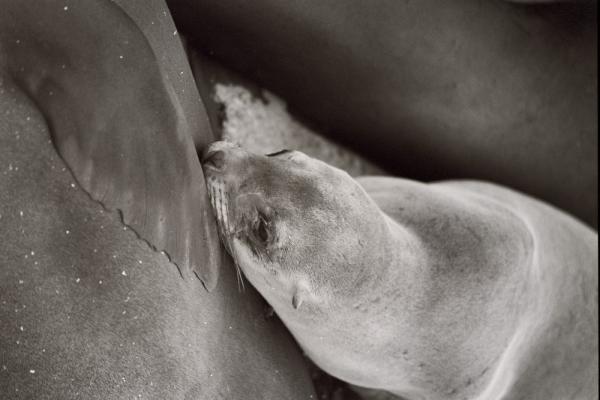 Today we go horse back riding. The day is a bit cloudy here at the hotel. Fabricio warns the ride will be dusty and we should bring a bandana for our face if we have one. We took taxi's (little pickup trucks with benches in the back) to the meeting point. As we climbed the hills we again entered the Garua. We stopped a few times to photograph intersting plants and some Vermillion Flycatchers sitting on a fence. As we approached the starting point we came upon the herd of horses we were to ride. They were being herded along the road.
We arrived at the meeting place and were assigned our horses. I've been riding for most of my life and I was bit leery when I saw my horse. He was small, well they all were. As I looked at his confirmation I knew I was in for a bumpy ride. The tack was like nothing I'd ever used before. The horse although small appeared in relative good condition(I knew since I was in a third world country they are not cared for as I was used to and I'd been a bit nervous of what I would find). And although they were not the well bred stted I was used to they all seemed healthy.
We started out in a mad rush, they were definitely herd bound. My mount 'Montato' tried to stay at the front of the group. At first I was bit nervous as no one seemed to be controling their horses but the horses were just basically a stampeding herd. But that's what these horses are apparently used to so it all worked out. As we traveled on and spread out a bit I felt a bit more comfortable. We passed out of the Garua and into the sun and the dust. Fabricio was right, I was glad to have the bandana tied across my face. We rode along the edge of Sirra Negra. On the trip out we could not see too much of it, due to fog.
We arrived at a clearing. and dismounted and had a snack. The horse masters took control of our mounts, a few were tied to trees but most just hung out with their herd of buddies. Good old Montato found his buddy and just hung out.
We hiked into the volcanic area under a hot sun. Omar, our GNP guide for the day pointed showed us areas where we could put our hands near the rocks and feel the heat. We saw a few scattered plants. I was amazed at all the different colors of the hardened lava. The colors come from different minerals in the lava. Again I felt like I'd been transported to another planet. We hiked for some time and stopped at the edege of a drop off. There we sat and rested. At Fabricio's request we all sat quietly for several minutes just taking it all in.
The ride back was bit more peaceful. We rode back at our own paces (and yes all of Montato's were bouncy). I ended up all alone for about 20 minutes. Just me and my trusty steed, riding through the Garua. It was eerie and peaceful at the same time. I thought about enjoying it for as long as possible, since I'd most likely never be here again. I was disappointed when the trailing group caught up with me and disturbed my peaceful ride. Trusty little Montato got me safely back to the starting point.
On the return we stopped at the Tortoise Breeding Center and saw more varieties of tortoises. As we were about to leave we saw tortoises mating.
After lunch it was time to snorkel again. It was something not on the itinerary but recommended by Fabricio. We walked a short distance through the Mangroves near the dock to a sheltered cove. Again the water was cold, but it was worth it. We saw many colorful fish and plants. Unfortunately we did not see the spotted eagle ray that Fabricio says frequents the cove.
From there it was time for dinner and bed. We had an early start for the trip home.