Today ended up being a step back in movie history. It was very very hot in Malta! After the first day of wandering ruin sites in sweltering temperatures, I knew I needed to be in the water at least sometime on this trip and started searching for options.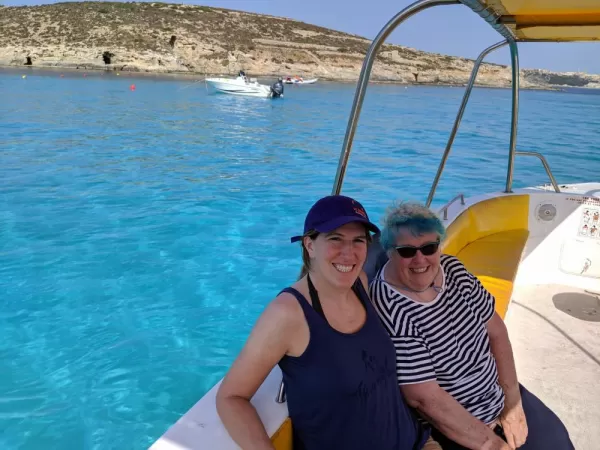 We are in Gozo, Malta and I arranged a local water based outfitter to take us out. They met us via water taxi at the Pier and we went straight out to some of the local water highlights including Comino Island and some water caves where The Count of Monte Cristo was filmed. Overlooking the water is a lonely fortress on the hillside that made a perfect prison for the film. Apparently, the fortress was also used briefly as a prison, though it's main purpose was defense.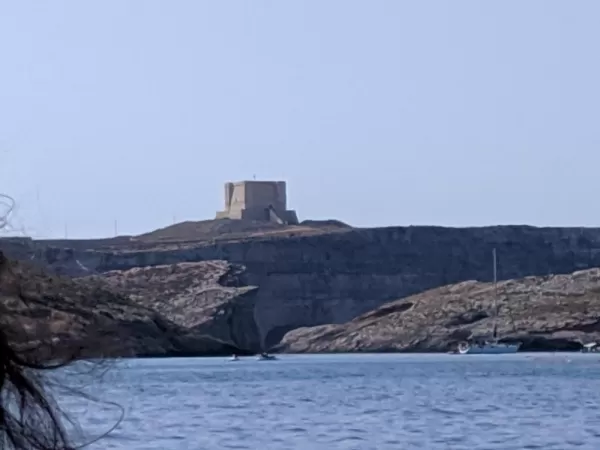 We traveled from there to the 'Blue Lagoon', a sea blue beach front very popular for swimming with locals and tourists alike on the other side of Comino Island. It's so popular that many companies run shuttle motor boats to the lagoon every hour. Our guide was surprised that we didn't want to stay, but we were on a tight timeline as we had to get back to our ship by midday to sail to Valletta. 
Instead of lingering, we continued on to Hondoq Bay where I had arranged for water skiing, a sport I dearly love but rarely have the opportunity to do. In fact, it had been many years so I was thrilled that I got up right away and only crashed when my first rope broke! It seemed much harder on my back than I remembered and I learned later that they had given me 'beginner' skis since they weren't certain of my experience. They were short and wide, not especially nimble, so I think there was a lot more resistance in the water! Despite hobbling the rest of the day, I was so happy I went!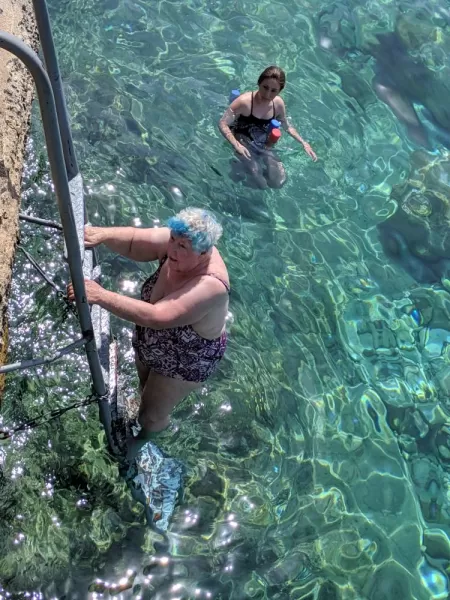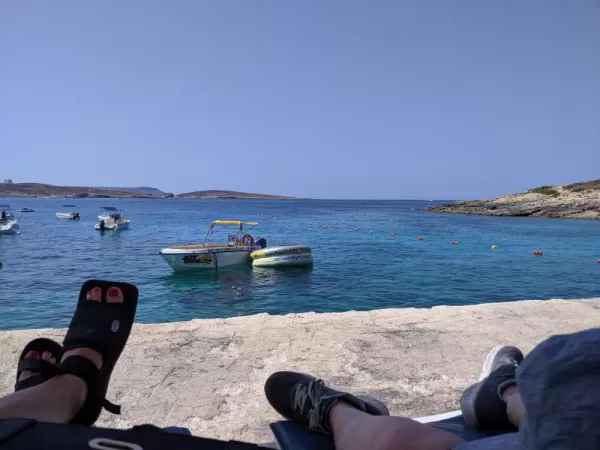 Back on the ship, we had lunch as we sailed to Valletta and I arranged a taxi to pick us up an take us to the other side of the main island to "Popeye Village". The original set of the 1980 film is open to the public and it's a charming, colorful place to spend the afternoon. We toured the well maintained set and watched some impromptu dances and skits in the main square. They also have the most idyllic turquoise bay surrounded by cliffs on three sides. Apparently, this was precisely what attracted the set designer who searched the world for an appropriate place to build the fishing village of Sweethaven- it has to have beautiful water, a sheltered bay and no palm trees to distract from the Nordic village feel he was aiming to create. Now this gorgeous bay is open for visitors to swim. This was actually our best find of the trip! Everything was included for 17 euros - a visit to the film set, the shows, a small theater with free popcorn, a boat ride around the harbor, beach umbrellas/chairs and a giant water toy with trampolines, slides, etc. Oh, I wish my back didn't hurt so much from this morning!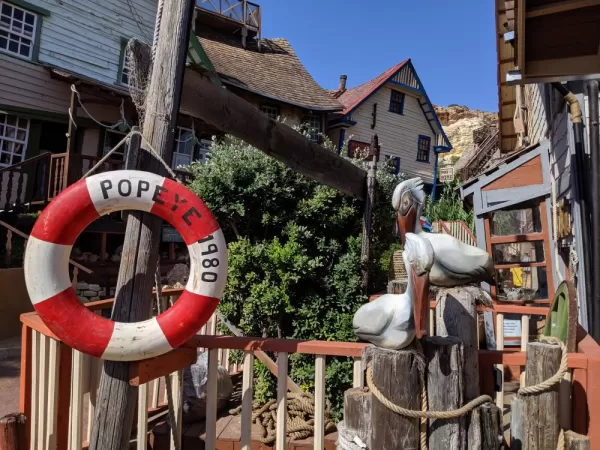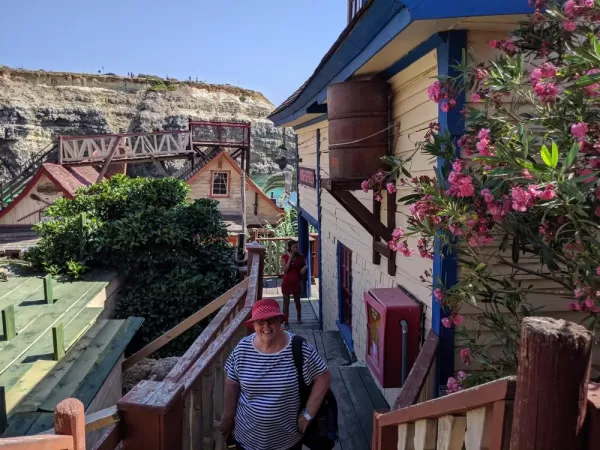 I swam over to the water toys and tried out the slides. Between my sprained foot and sore back, I wasn't able to do most of the obstacle course, but I still savored the cool water. Once refreshed, Mom and I took the included boat ride, another charming experience. It was a short trip along the harbor to admire the cliff sides and see the rocky outcrops where the scene with Popeye and the octopus was filmed. All in all, I wholeheartedly recommend Popeye Village- both as a tourist spot and as one of the most beautiful places to swim in Malta!