My mom was named after her uncle Valentine who died in World War II. Her dad thought he was being creative when he "made up" the name Valetta as a tribute to Valentine. Throughout her life, her name has been a source of comedy and angst.... Florida, Velveeta, there's no end to the odd spellings and pronunciations she gets. Hence my name - Mary. She figured no one would mess that one up!
She was also thrilled when she discovered that she wasn't the only Valetta out there. Valletta, the capital of Malta, shared her name. Ever since, it's been a dream of hers to get there!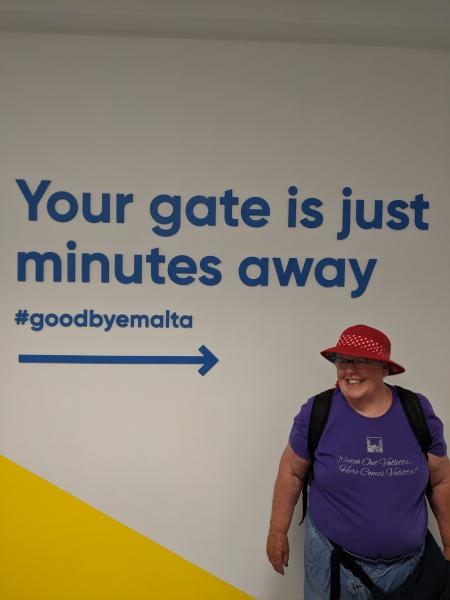 We arrived on her 72nd birthday, a coincidence of timing with a cruise on the brand new Le Bougainville, a ship that I had been wanting to see for myself, and a very convenient opportunity to fulfill my mom's wish. On the lovely Lufthansa flight in, the flight attendants decorated a bottle of champagne to wish her a happy birthday. Upon landing,we were greeted by the Ponant representative and incredibly grateful to rest our jet-lagged brains and let someone else take care of us.
And they took very good care of us! A stay at the Grand Hotel Excelsior was included in our cruise. We had just enough time to freshen up before Ponant's included reception on a gorgeous terrace overlooking one of the two harbors that Valletta divides. We met a couple of fantastic ladies out of San Francisco who made gummy bears out of "creative stuff" in their spare time, sipped wine and had lovely bites while enjoying the view. 
After the reception, we decided to dine in the Admiral Restaurant, which had floor-to-ceiling windows, probably 40 feet high and also stunning views. This hotel really knows how to show off its location! Tonight's special was Maltese buffet, so it was a great opportunity to see what the Maltese folks eat. I tried my first rabbit - it had the texture of a nice pork roast, but it was a bit too gamey for me - as well as beef olives (just as it sounds and soaking in a tomato-based sauce) and various Mediterranean cheeses. The waiter coyly told us they were having trouble with the computer when we asked for our bill and later came up with a sparkler topped slice of cherry tart for my mom's birthday.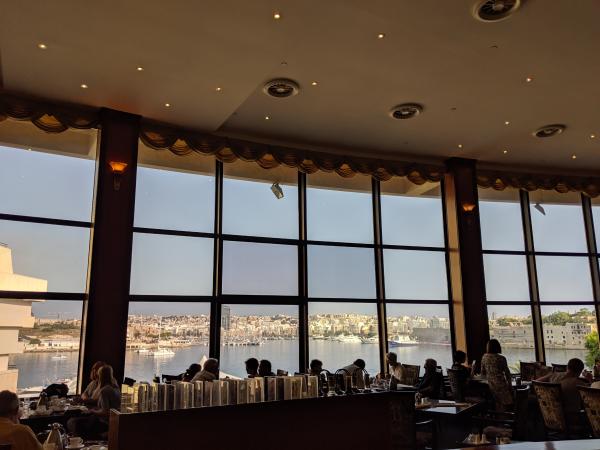 Well-fed and determined to conquer my jet-lag quickly this time, I headed down to the pool just after dark. The temperature was comfortable, and the poolside seating is adjacent to a small sandy outcrop, not more than 10 feet across with steps leading right into the Mediterranean. It was now pitch black, but the water was warm, and I couldn't resist a quick dip into the sea. Within moments my brain started to conjure images of all the sea creatures out there in the blackness, and I scrambled back up the steps to the waiting shower and the safety of the pool.