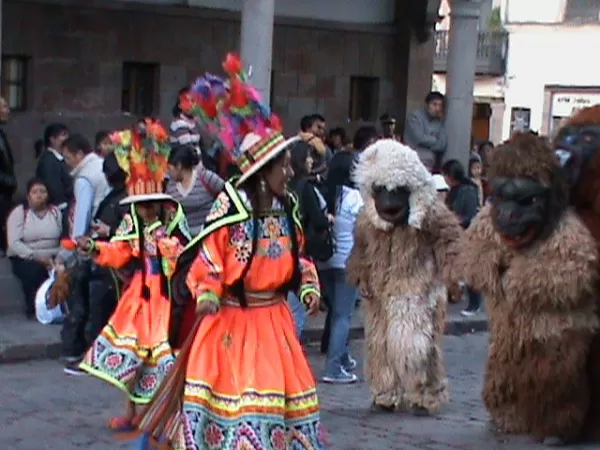 While half of our group opted for the second half day at Machu Picchu, the rest of us had returned to our hotel, El MaPi.
My guide book clearly stated that Aguas Calientes had no charm and that it was a tourist trap.
Sometimes it is best to ignore the guide books!
I wandered around the town and found much to be charming. Of course it is touristy. That is half the fun! The area around the train station is a labyrinth of shops and vendors, and it reminded me of the Middle Eastern souqs. While guide books state that this place is expensive shopping for souvenirs, and in some cases this is true, I also found vendors willing to bargain, and many places with decent prices.
At noon, all of our group met up and we were back on the train to Ollantaytambo. This train ride was highly amusing as we had a fashion show, and an explanation of a local festival, complete with a costumed train steward dressed in what I can only describe as a cross between a Chinese dragon and an Inca diety! When he joined the fashion show, it was hilarious!
Back at Ollantaytambo, we had time to explore one more set of Inca ruins before gathering our large suitcases and heading back to Cusco.
THINGS TO KNOW: Guide books are written by people, and people have biases. Sometimes it is best to take what is written with a grain of salt.