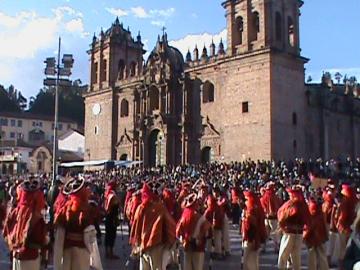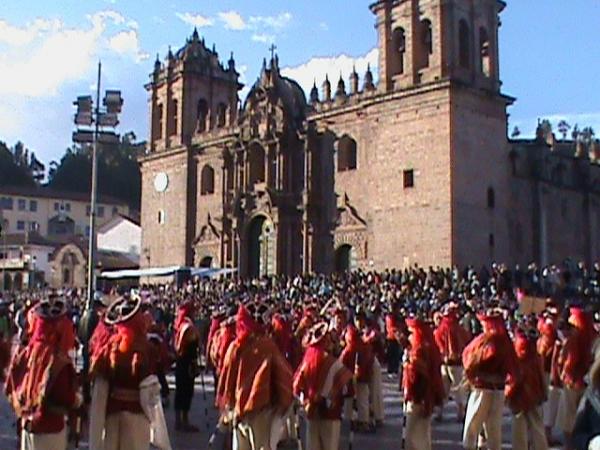 The next morning our group set off for a day in the Sacred Valley. Our first stop was the town of Chinchero.
We stopped at the Centro de Textiles Tradicionales and had a wonderful lesson on how dyes are made from plants, insects, and ground stones. As someone who dyes, and spins her own wool, I was in my element! I found myself going into greater depth when explaining in English just what the women were doing. One of our weavers has been to the United Nations to speak on keeping traditional dying and weaving methods. My only regret is that I did not have a picture taken of myself with these wonderful women. I did buy several items, and because I had identified myself as a fellow weaver, I scored a free scarf! Because this was a center for Traditional Weavers, I did not bargain any prices. I think they deserve any price they ask for. (I will explain bargaining/bartering at the end of this post.)
We then did a walking tour through Chinchero, which according to the Incas, was the birthplace of the rainbow. We visited the colonial church, built on Inca foundations. We also met some women out on a field, who were dehydrating potatoes.
After Chinchero, we went to the town of Urubamba for lunch. This was my chance to try alpaca, and it is delicious! We also had the best flan ever!
After lunch we were given the choice of going on to Ollantaytambo to see the Inca ruins there, and to get settled in our hotel, or to go see the salt pans near the town of Maras. I had seen pictures of the salt pans in National Geographic, and I wanted to see them in person. I made my case, and my group agreed to go. We did not regret that decision.
The salt pans near Maras are wonderful to see. Many people use these man-made pools to harvest their own salt, which comes from a salt-water hot spring. Our guide, Vidal, took us down into the salt pans via a very narrow path. I cannot recommend seeing these salt pans enough! The site is truly amazing and unusually beautiful.
After Maras, we went to the ruins of Moray. This is a deep set of terraces, in the round. The theory is that the Incas used this area as a type of laboratory, or green house to figure out which crops would grow under optimal conditions. Looking down into the "bowl", it made me wonder how such perfect circles were acheived.
We left Moray, and headed to Ollantaytambo. This is an awesome little town with two massive Inca ruins. We got there about dusk. Now, what really made this a fun place to be was that the town was celebrating the Festival of of El Senor de Chocikillka (a Pentecost festival). I would have loved to have spent two days here. Adventure-Life seriously needs to book two days here during Chocikillka. This was a fun festival! After we settled into our hotel, we went to dinner at the Blue Puppy, where we had an excellent view of the nightly fireworks.
Our hotel was El Sauce, which was a lovely hotel with feather bed quilts! The lobby had a wonderful assortment of Peruvian knit hats decorating the walls. Now, I need to buy hats to decorate a wall!
The next day we would leave for Agua Calientes and Machu Picchu.
THINGS TO KNOW: There is a big difference between bartering and bargaining. Bartering is trading one good for another. If I have an abundance of tomatoes and strawberries, I can trade my surplus for items I want. You need to have experience with bartering before coming to Peru to do it, and I would check with Adventure-Life before you bring goods down. Bargaining is getting an item at a lower price using currency. I learned my bargaining skills while living in the Middle East, and I am good at it! Depending on the item, I may counter with half of what is being asked. Then the vendor and I can "bargain" to reach a price. In Cusco, I got two dolls for 10 soles each, and the original price was 20 soles each. You may have to walk away if you can't get the price you want. Be prepared to do so. More often than not, the vendor will call you back with a counter offer that will make you both happy. If you don't get called back, don't walk back to that vendor. No deal will be had if you do. Remember, these people are trying to make a living.