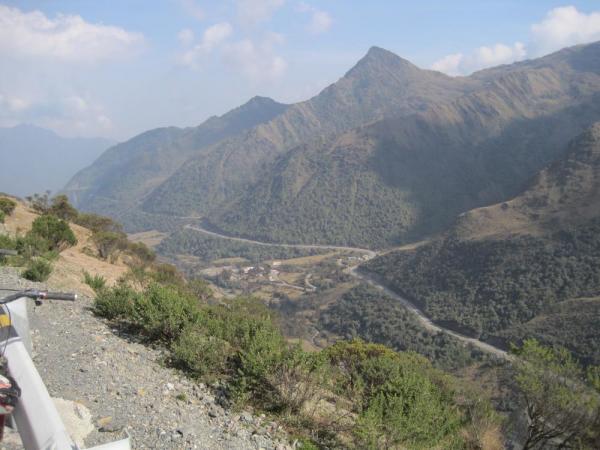 Today was the big day of hiking on the Inca Trail. We put on lots of bug spray and sunscreen and made sure our water bottles were full and started out on the hike. It was sure steep - Marco said we climbed approximately 1,000 feet in altitude in the first hour of the hike! Though mentally challenging at times (the trail is quite narrow and the drop off is steep), it was a most rewarding experience. We stopped twice along the way - first at a "rest stop" along the trail where we had some fresh papaya (literally, right off of the tree!), tried some delicious "jungle peanuts" and some cocoa beans dipped in honey (it was one of the most delicious treats I'd ever tried - and I would love to know where I can get more of it - probably will have to hike the trail again!!!) The views along the way and from the highest point were stunning. We both felt like we'd been challenged and the accomplishment for finishing it was a great reward.
After the day's hike, we headed to our campsite at the Eco-Quechua Lodge in Santa Teresa. Here we decided to upgrade to the "tree house" room in lieu of camping in the tent and that was a real treat. How often do you get to camp in a room with a bed with mosquito netting and the sound of the river right outside?
Juan, the fabulous cook, made us a wonderful dinner that night. He was incredible - he prepared fantastic gourmet meals in the middle of the jungle- I'm not really sure how he did it - but we loved every meal!