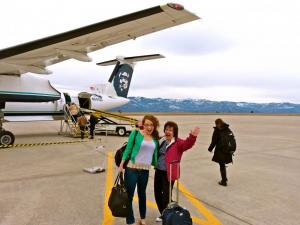 Today's the day! South America adventure take 2. There are five flights between Missoula and our first destination - Mendoza, Argentina. This is the second time my Mom and I have attempted this Argentina &
Uruguay trip
. Last year, we made it as far as Los Angeles, where I burst an eardrum on the final domestic flight. But never fear! We're back at it with enough decongestants to fill a drug store and a whole lot of enthusiasm.
We're leaving Missoula, Montana on a warm day, 45F! While this heat wave has allowed us to trek to the airport without our down jackets, I'm ready for Mendoza's forecast of 90F and sunny.
The only thing separating us is a brief overnight in Los Angeles and 16 hours of flight time. Upon arrival we are going to taste the region's malbec wines, visit the tallest peak in the Americas, and learn to cook traditional Mendocino cuisine. Then we're off to Buenos Aires for a look at the city life, and will finish the trip exploring the coast of Uruguay. Buen viaje!