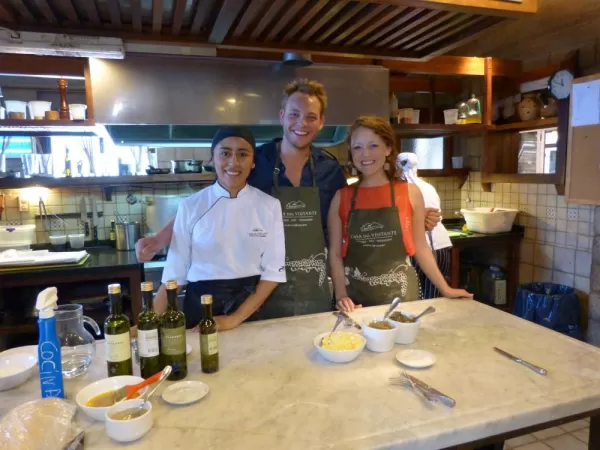 Our first day on our
Mendoza tour
has been nothing short of perfect - we cooked a meal in a busy Argentine kitchen, toured the largest family winery in the country, mailed 3 cases of wine back to the US and ate more meat than I feel comfortable admitting.
There is a surprising abundance of trees, flowering bushes, tall grasses and expansive lush laws covering the city and roadways. But the verdant appearance of Mendoza is misleading - the entire province is actually an arid desert. Lying in the rain shadow of the Andes, Mendoza has 300 days of sunshine and less than 10 inches of rain a year. An ingenious network of aquaducts has allowed the cultivation of vineyards and the fertile landscaping, and in combination with Mendoza's glacial soil and sun, has created world-class conditions for producing wine.
We checked in to our
Mendoza hotel, Club Tapiz
. It is in the countryside about 20 minutes outside of the city; a beautiful hotel, restaurant and winery situated on a 15 acre vineyard. We are lucky enough to stay in Casa Zolo, the historic governor's mansion, a 2 minute stroll from the main building. Casa Zolo is a classic Spanish manse with french doors, gorgeous tiled floors, a private pool and only four rooms. We feel like we have the whole house to ourselves!
Today we drove 45 minutes east to the Bodega Zuccardi, the largest family owned and operated vineyard in Argentina. We walked through half a mile of "espalvero" style vineyard to the Casa de Visitante, where a patio shaded by the cover of hanging grape vines heavy with big, sweet green and yellow grapes hung over wooden tables. We enjoyed cafe con leche, pastries and fly fishing tales from our guide, Ezekial. We were then directed inside, where we were given aprons and introduced to our chef and cooking instructor, Aurora. She ushered us into the kitchen, which was a bustling, fast-paced restaurant kitchen where jacketed chefs were busily preparing the day's lunch. We set up at a marble island that stretched the length of the room, with the grill full of big pots and pans on one side and the pastry chef working on the other. Aurora brought us out bowls of flour, yeast, salt, sugar, egg yolk, a pitcher of warm water, and three ramekins filled with onions, meat, and cheeses.
First, we made dough for baguettes, and set our three spheres of dough aside to rise. Then, Aurora presented a thick slab of puff pastry dough, which we took to the back of the kitchen and took turns feeding through a giant mechanical roller. I went first, hastily catching the lengthening dough as it spun out of the roller. My mom went next, and as the dough kept getting longer and thinner we realized that this was not a simple process. By the time John took over, the 12 inch wide ribbon of dough was nearly ten feet long and we laughed hysterically as he doubled hand over hand, looping the length of dough over his arms, frantically trying to keep up with the output of the machine. It took all four of us to carry the thin sheet back to our marble work space. Aurora quartered the dough and gave each of us a small saucer to use as stencil. We each cut out six disks, to be used for empanadas! We then filled them with carne, a blend of three cheeses and sauted onions. We struggled as Aurora taught us the technique for sealing the dough pockets, watching as she delicately scalloped the edges of the casings, while our's came out, well, to be honest, pretty ugly. Fortunately the appearance did not affect the flavor!
Once our preparation of the empanadas was finished, we resumed our work with the baguettes and carried our creations out the back of the kitchen, round to two adobe ovens filled with glowing coals. We placed the empanadas and bread into the ovens. Sweating from the heat, pushed them inside and shut the iron doors. Opposite of the ovens, an enormous open grill stood covered in the traditional Argentinean barbeque - asado! Lamb, beef steak, black sausages, chicken, salted pork, and chorizo sizzled on the iron grill, the rich aroma of spices filling the air. With our eyes wide and our mouths watering, we sat down with glasses of wine and attempted to be patient as our lunch was cooked.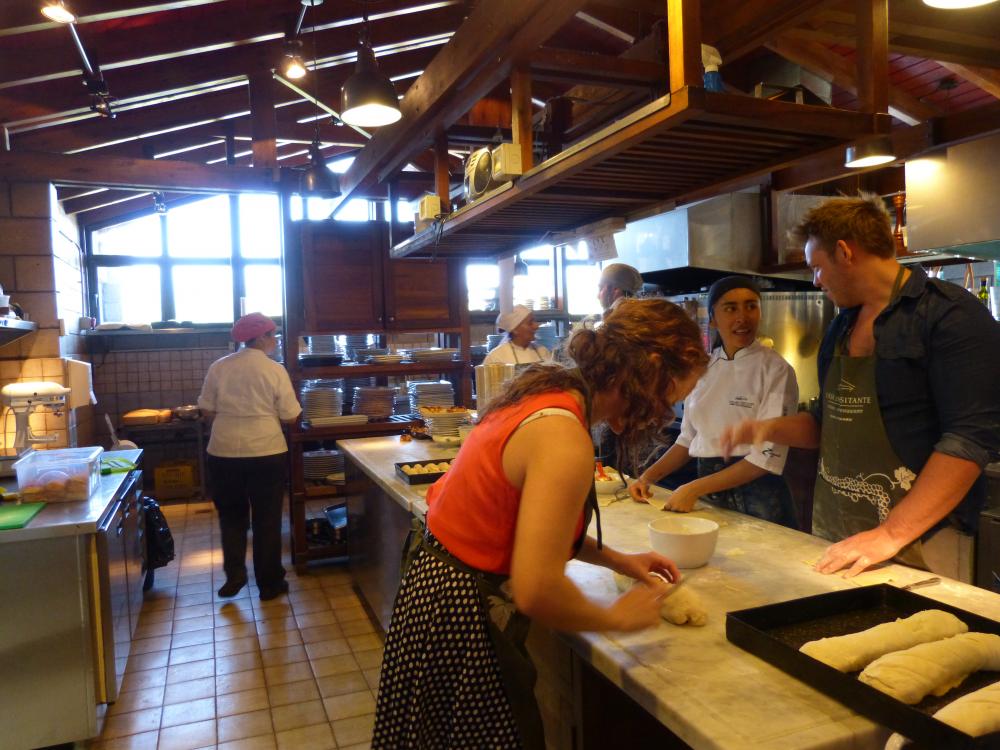 We enjoyed our empanadas, and then took a two hour tour of the winery. We have planned our
Argentina travel
at perfect time - March is the month of the harvest! Giant trucks bringing grapes from Zuccardi's other properties hauled their loads into the production area, and we watched as the winery's 1,000 workers prepared bottles, labeled 300 kilogram crates of grapes, and shoveled destemmed grape skins into giant containers ready for distillation.
After being thoroughly impressed by the industrial wine-making process, we went back to the Casa de Visitante for lunch. Our waiter brought hot skillets of meat to our table no less than five times, offering the juicy asado we had seen on the grill. Accompanied by fresh salad, grilled vegetables, sweet tomatoes and of course wine, we ate, drank, and laughed until we could barely move.
A truly perfect day of friends, family and Argentinean tradition!