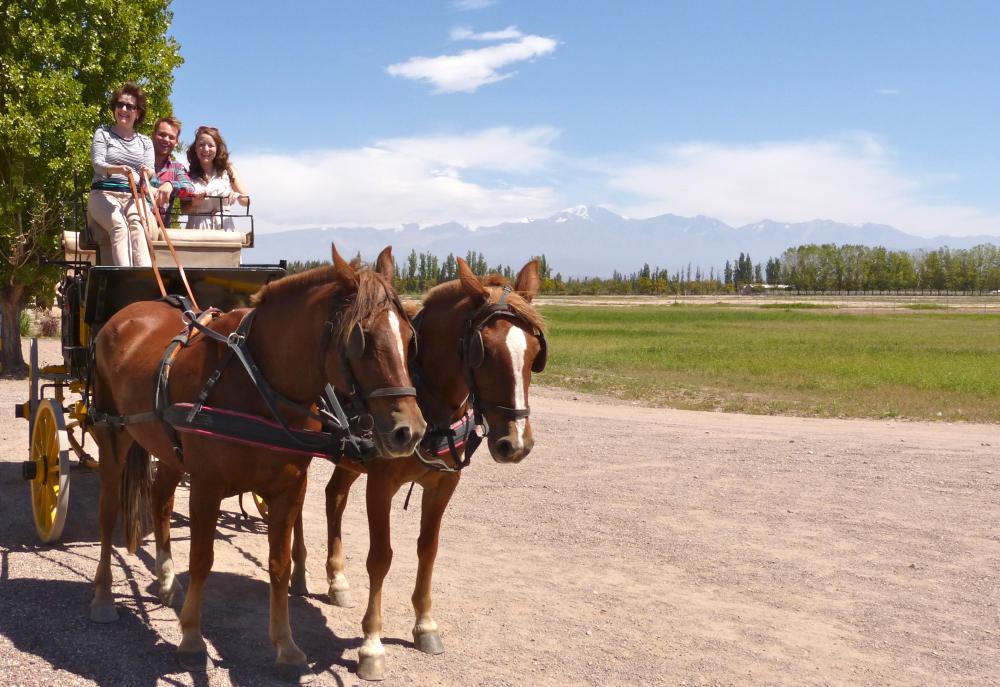 Another typical morning in Mendoza - out and off to a winery by 9AM! We drove 20 minutes to Lujan de Cuyo, where the Tapiz vineyard is located. This was an entirely different experience from the Familia Zuccardi winery, where Zuccardi reaches 1,000 employees during the harvest, Tapiz maxes out at only 60 workers. Our fabulous guide, Juan, made the
Mendoza wine tour
both fun and highly informative, expanding our knowledge and appreciation for the intricacies of the wine-making process. He poured us glasses straight from the giant aluminum fermentation vats! Our first sample had just been put into the container the day before. No yeast had been added, so it was essentially grape juice. The murky, brown and yellow color did not look inviting, but the grapes are so sweet, almost like candy, that it was quite delicious. We then tasted the second stage, after yeast has been added and the fermentation process has begun. This stage is not so good, very bitter and acidic. Finally, we tasted the finished product, 8 months in the vat, now a real Sauvignon Blanc.
We finished the tour and Juan pulled us aside for a surprise - to my Mom's delight, we got to ride in a horse-drawn carriage through the vineyard! The horses, named Malbec and Cabernet Sauvignon, were both a beautiful rich brown color, and pulled the carriage at a quick pace, allowing us to see the majority of the grounds in only 30 minutes.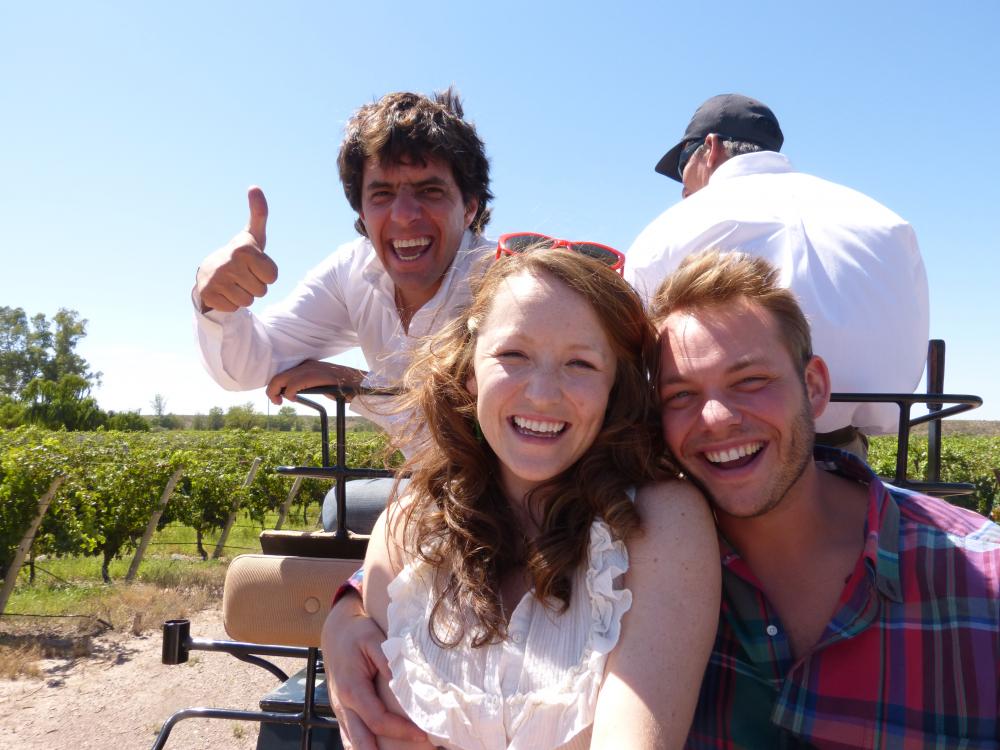 We left the Tapiz Winery and drove down the road, by chance stumbling upon the Bodega Melipal. The second we crossed through the gate, we knew we had entered the next level of luxury in Mendoza. The winery is only 10 years old, but the owners had set out to make an impression. The restaurant looks out over rows of grapes, swaying poplar trees, and the blue Montana Plata and Volcano Tupungato in the background. (Side story - Tupungato is the same mountain featured in the film "Alive", depicting the true story of the Brazilian rugby team whose plane crashed on the mountain, leading to cannibalism and eventually their rescue. Cool!) We were seated on the deck, and enjoyed a completely ridiculous 5-course lunch along with wine pairings. Four hours later, we enjoyed a late harvest Malbec sorbet and finished the meal. John decided to start cataloging his steaks, perhaps the start of a carnivorous photo essay!