I told my coworkers that I was a bit nervous to take a balloon ride as I've always been afraid of heights. One of them said, "oh, just think of it like you're in an airplane!" They couldn't be more right. We were picked up early in the morning to arrive to where the balloons were being filled at 6 AM. When we arrived, other safari vehicles rolled in soon after. We were split into two groups of 16, one group for each balloon. We met our pilots and they gave us a briefing about what the next 1.5 hours would look like. First, we were to strap into our seats and we entered the basket as it was on its side. Our pilot had the balloon filled with cold air before we all wiggled our way into our seats. He then used the fire to blow hot air into the balloon which made the basket become upright. Suddenly, we were airborne. My coworker was correct, it was more like being in an airplane rather than suspended from a ladder in midair as I had feared. The basket was large and tall where we felt very secure.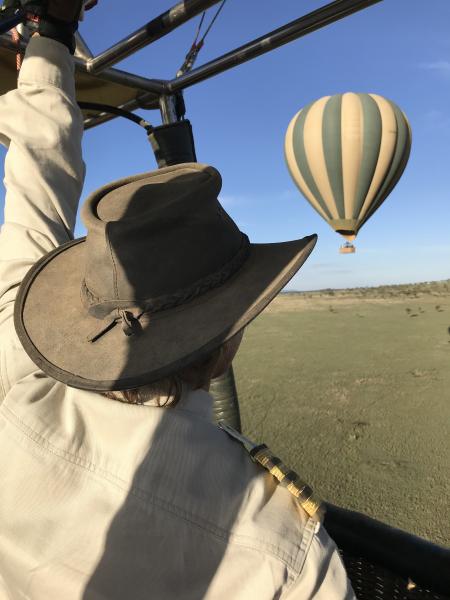 We had about an hour in air to have a birds eye view on the Serengeti. We were lucky enough to be in the central Serengeti when the migration was headed through. Seeing this from above was the best way to truly capture the numbers as we saw waves of wildebeest and zebra moving through the land below. We saw the hordes of animals, hippos in pools, hyenas feasting on a meal, a running family of giraffes, herds of elephants and more. During that hour, the balloon was riding the thermals of the air which meant that we were sometimes very high in the air and sometimes very close to the ground.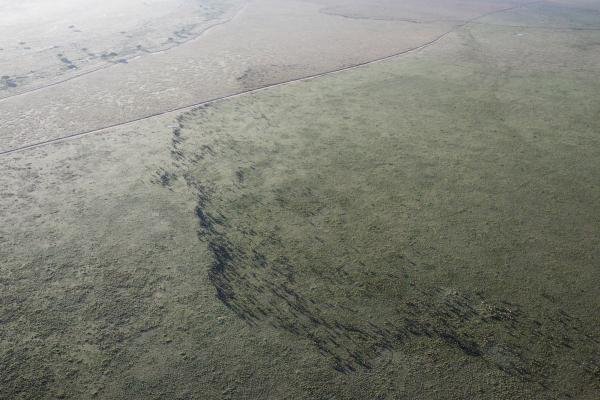 The hour went by so quickly as we saw many animals as well as the beautiful rising sun over the Serengeti. We landed in an open field next to the other hot air balloon. We met in the middle where the safari vehicles drove to meet us. As per tradition, the pilots popped bottles of champagne to celebrate a wonderful ride and to make peace with the landowners where we landed (the wild beasts). Since they don't drink champagne, we all enjoyed it ourselves. We then drove to a designated area on the Serengeti to enjoy a beautiful breakfast with even more champagne. To anyone weighing the cost or time it takes to do a balloon safari, I highly recommend it. We enjoyed the change in perspective and fun adventure. We also made a few new friends in our shared experience.