I think what surprised me most about Tanzania was its diverse landscape which resulted in many different climates. Our guide, Rama, explained the cause of this landscape by themovement of tectonic plates and volcanic activity. The Rift Valley can be seen from Lebanon all the way to Mozambique in southeastern Africa. This is a serious of geographic trenches and it's amazing to see the result of the landscape and wildlife in Tanzania. The most amazing of those is Lake Manyara which is a lush green forest that has a plethora of monkeys, and other scattered animals like zebra, wildebeest, giraffes and elephants. There are also underground springs along that side of the Rift Valley, which is why the area is so lush and vegetated. 
Just a few hours drive takes you to a dry and almost desert-like land by Lake Natron which is similar to Lake Manyara. The lakes are a result from the volcanic activity from nearby mountains. Lake Natron is a direct result from the still-active volcano Ol Doinyo Lengai (Mountain of the Gods). I was curious to see how the different landscapes also affected the temperatures we encountered. Now, when you're packing your bags for Africa, you are thinking hot and dry. You think you'll only need shorts, tank tops, a hat and maybe some sunscreen/bug spray. The more I read about what to pack from other travelers or advice we give to our own travelers, the more I learned that layers were necessary for some of the locations we stayed.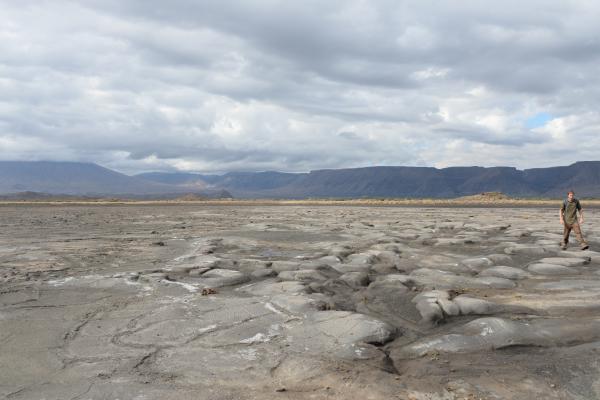 While Lake Natron was hot and dry, the Serengeti was a breath of fresh, cool air. In the mornings and evenings, we wore pants, long sleeved shirts and a jacket or vest. Ngorongoro Crater was the coldest as it was the highest elevation location we stayed. Every camp had their beds dressed accordingly as well with either light sheets, or thick blankets like Ngorongoro had. The difference in elevation was deceiving as compared to climbing switchbacks up a mountain in Montana. This terrain was gradual and winding - the mountains, just like Kili, had sloping sides and were not the rugged or steep mountains that I was used to seeing. We were grateful for both our warm and cold weather gear we packed. We wore every piece of clothing (sometimes 3-4 times) and you won't regret having some layers to wear while enjoying your evening fires (bush TVs). Don't ever underestimate the power of sunscreen even if you are on safari under a hood like we were. Bug spray is important as well. We were lucky to not have many bugs, but that can depend on the season. The worst flies we encountered were in Tarangire and mosquitos in Zanzibar. We had either mosquito nets or zipped up tents wherever we were at night that protected us from any other bugs that may wanted to suck our blood at night.