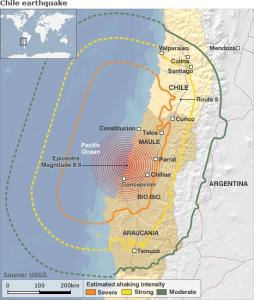 Over the weekend an 8.8 magnitude earthquake hit the coast of Chile. Our thoughts are with our friends and partners in Chile.
All of our travelers are safe; some have run into issues because of flight cancellations, but we are hopeful that flights will resume shortly so our travelers can head home.
LAN Airlines
is working on contingencies to get people on international flights over the  next few days - but there are not a lot of details at this point. It is hopeful that Santiago airport will be ready for commercial use by March 4, but we are cautiously optimistic about this date; delays are possible.
Thank you, to all of you who expressed concern and well-wishes for our friends in Chile. All of our affiliates in Santiago and the Lakes District regions are fine. But as you can imagine, it will take time for everyone to recover from this - the earthquake has affected all Chileans either directly or indirectly.
As always, we are on top of things. Our travelers' safety is our top priority, and we will continue to post updates as we receive new information.
For travelers scheduled to arrive to Santiago within the next few days, alternative plans are being made to visit other areas. For travelers arriving in a week or so, we will have options ready in case the Santiago airport does not open up as soon as we expect. The Atacama and the Patagonia region, including the Lakes District and Torres del Paine, were not affected by the earthquake - but access has been disrupted due to Santiago airport closure. Alternative routes are being arranged until the Santiago airport reopens.
The Earthquake
The majority of the damage is in the city of Concepcion, 70 miles northeast of the earthquake's epicenter, and on coastal cities in the south-center region of the country. Chile's capital city, Santiago, is 202 miles from the epicenter. Following a devastating earthquake that hit Chile in 1960, many building codes were updated in the event of future quakes. Most of the buildings that suffered extreme damage were of older design - including historic structures. In Santiago, our partners tell us that while some portions of the city were damaged more than others, most of the city came out relatively unscathed and is quickly returning to its daily operations.
Tsunami after-effects, flooded areas of the Chilean coast, but caused little impact to other Pacific Ocean coastal regions (such as Japan, Hawaii and Galapagos) as originally predicted.
We are in continuous communication with our local Chilean partners and will keep you informed about travel to Chile. But, certainly, if you have any questions,
ask us
.