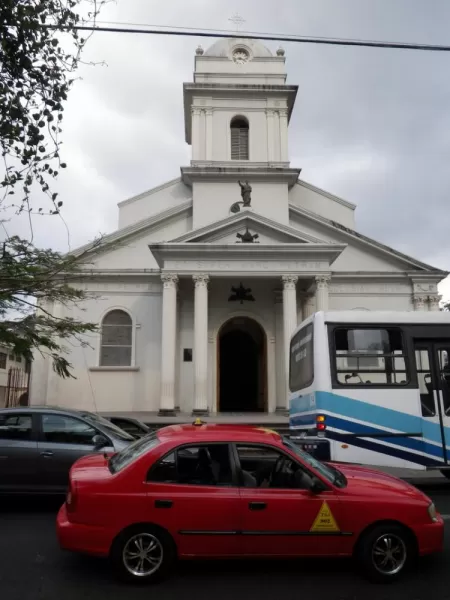 My college buddy, Andy, and I had planned a trip after both finishing grad school in the summer of 2010. That trip got delayed as we focused on moving and finding jobs. Hanging out over Labor Day weekend in 2011, a trip for the new year was decided upon with Central or South America in our sights.
With some help from an ad in Outside magazine, we found this amazing trip through Adventure Life to Costa Rica and Panama. Since the time to celebrate finishing grad school came and went, it was now to be a pseudo-celebration of us both turning 30 this year.
Our 9-day trip promised to be jam packed with culture and activities. Adventure Life helped coordinate our flights, as Andy lives in Philadelphia and I am in Minneapolis, so we could meet at Miami International Airport and fly together to San Jose, Costa Rica.
After going through customs, a trip to the ATM to get some colones and a taxi ride through the city, we arrived at Hotel Le Bergerac, which offered very nice, clean accommodations in walking distance from the center of the city.
In need of food, we got some help from the hotel staff and headed out exploring. Andy and I came upon Bufalo's near the University of Costa Rica campus. It had beer and sandwiches on the menu and that was all the convincing we needed.
With drinks in hand - Imperial beer made in Costa Rica - we toasted the start of the trip. As we enjoyed our food we were treated to the performance of some of the local patrons doing karaoke in Spanish. The owner and servers made us feel welcome and even offered us the microphone but I hadn't had enough beer to trust my Spanish pronunciation to get up there.
After our meal, we walked around the University of Costa Rica campus, which had some great sculptures and interesting architecture. We then headed to the center of the city and saw the government buildings and amazing street art / graffiti as dusk fell.
It was a relaxed afternoon but the perfect way to transition into our vacation. We got a good night's sleep because the real action would start the next day.