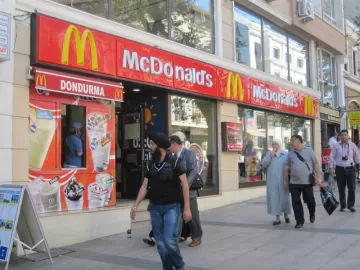 Since we didn't have to be on the ship until 4pm, we strolled over to visit the Topkopi Palace, now a museum. It is said to be one of the best examples of palaces from the Ottoman period. You could easily spend an entire afternoon here.
We walked back to our hotel and caught a taxi to the ship. The taxi dropped us off right at the Windstar area at the pier. Once there, it was very easy to find where we needed to go. There were a number of Windstar staff who directed us to the ship, and eventually to our cabin. We were starting our honeymoon cruise!
We were in one of the standard cabins on Deck 2. Since this was our first cruise I can't compare it to others, but our cabin was great. Flat-screen TV, large double bed, and tons of storage for our clothes and belongings. I brought along a rolling duffel and was able to slide it under the bed for storage. For this purpose, a soft-sided suitcase might be the best option. We each had our own closet for hanging clothes, and there were plenty of hangers. There was a safe in the cabin (which we never used), an i-pod docking station and mini-fridge. You could either bring your own i-pod or borrow one from reception.
There was a library on board with books to read and movies to rent. You could even order popcorn via room service to go with your movie!
Now, time to explore the ship! Two hot tubs, a plunge pool, lounge chairs, four restaurants, a casino, lounge area, bicycles to rent and a water sports marina! This was going to be a great week!
As the ship pulled out of port, we watched the sun set behind the cityscape of Istanbul. It was great to watch those five sails unfurl, and to have them as part of the backdrop.