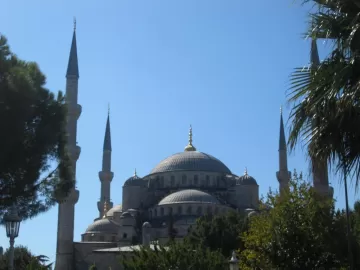 After the 11-hour flight from New York to Istanbul, we were excited to begin our honeymoon adventure! First things first....After claiming our bags (which arrived along with us!) we stood in a short line in order to pay the $20 per person Turkish visa fee. Very easy to do. After paying for the visas, we then stood in the customs line, awaiting our turn. Our flight was the only one in line, so the process took under 20 minutes.
We arranged for a transfer from the Ataturk airport to our hotel in Sultanhamet (the old part of Istanbul). Everything went smoothly and we were on our way! Our driver spoke minimal English but was able to point out some sights along the way. We drove alongside the Sea of Marmara and took in the view. Istanbul is a large city that is an interesting blend of cultures. A small part of Turkey (including Istanbul) lies on the continent of Europe, while most of the country lies in Asia.
We booked our hotel (Seraglio Hotel) on Trip Advisor due to the great reviews it received and we were not disappointed. I had mentioned it was our honeymoon trip and they tied a big red bow on the door of our room. Nice touch! The front desk staff were fabulous and very knowledgeable of all of the sights, where to eat, etc.
Although exhausted from our flights, we decided to hit the town! We were in walking distance to most of the major sights. We went to the Hagia (Aya) Sofia, Blue Mosque and Grand Bazaar. The architecture was positively amazing and the call to prayer heard over loud speakers was quite something to experience.
When going into any mosque, you must remove your shoes. Women also must cover their heads and some of the mosques loaned out scarves for this purpose. (But bring a scarf or wrap just in case.) The entry fee to the Hagia Sofia was about 20 Turkish Lira per person, but the Blue Mosque was free.
Although our hotel was in Sultanhamet, you really could stay almost anywhere in the city, as getting around on the tram is quite easy. (And inexpensive. A one-way trip cost 2 Turkish Lira, no matter how may stops you make.) But it was nice to be so close to the major sights.
After sightseeing, we went for a traditional Turkish dinner at a restaurant overlooking the Bosphorus. We had mezza (small tapas-style plates) and kebabs. Everything was delicious!