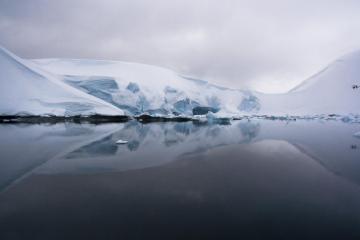 For the past 5 years, Antarctica has been a dream on a very distant horizon - a one day, some day dream that I never actually thought would come true. Even after I booked my trip on the Ortelius, Antarctica was a dream I couldn't quite bring myself to believe – not when I purchased my flights, not when I packed (and repacked) my bags, not when I boarded the plane out of Missoula or landed in Ushuaia, Argentina.
Two days into a very rough crossing of the Drake Passage, our Expedition Leader made a call over the PA system: "Ladies and Gentlemen, step outside. Welcome to Antarctica." I joined the masses as I zipped up my parka, grabbed my camera, and eagerly stepped through a side door on deck 4.
Nothing but water. I scurried around to the bow. Nothing but fog. Antarctica was out there – somewhere – I just couldn't see it yet. Anticipation hung in the air as the entire ship clung to the railings and then, all of a sudden... "there!" someone pointed towards the horizon and a multitude of cameras raised in unison. A humpback raised its fluke.
"There," I whispered to nobody but myself as the whale dove beneath the waves and the fog finally lifted to unveil what lay beneath.
Just like that, I felt the dream come true. Goosebumps spread all over my body. Antarctica stretched before me in dramatic shades of blue and white – a contrast of water in all its forms. Pristine and virtually untouched after the long winter, the continent at the end of the world beckoned me closer.
The humpback surfaced again and took a deep breath, reminding me to let go of the one I'd been holding. Antarctica was no longer a dream, it was now my reality. 5 years in the making, the dream was worth every minute: I had arrived.