I love exploring cities on my own. It can be a little overwhelming not knowing exactly where to go, but I do like to just walk and get a feel for the city. Hanoi has a wonderfully charming feel. The clash of French influence and Vietnamese styles makes for some interesting juxtapositions in the architecture but maybe more interestingly in the food. Though I love exploring cities on my own, there is always a bit of a question mark about food. I'm adventurous, but I'm also overly cautious. I want to try the cool little out-of-the-way places that might not be on any top ten lists, but I also want to know I am not going to get sick. Enter local guides.
Our guide on day 2 in Hanoi was amazing. We call the tour "Hanoi like a local" because you spend the majority of the day walking the streets of the French Quarter interspersing the tourist sights with food stops you might not find on your own and trying things I would have otherwise been a little nervous to order.
Egg coffee. It's a must! It sounds weird, but the little back alley cafe our guide took us into was packed with people. Condensed milk and egg make this a creamy, sweet dessert more than a coffee. Luckily, it comes in a tiny cup so you don't get sugar overload.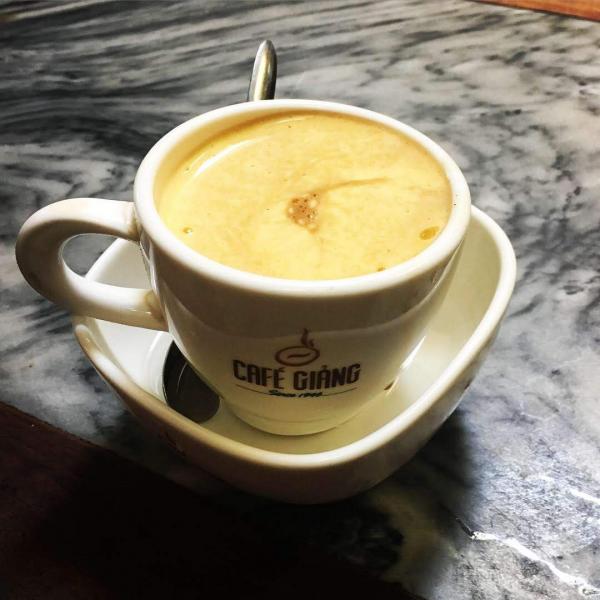 Bahn mi. So delicious. This dish definitely shows the French influence, served on a baguette with pate, it incorporates Vietnamese flavors for a unique sandwich typically eaten as an on-the-go breakfast. I could have easily lived off bahn mi during our whole trip, and not only because they are about $1.50 each.
Bun cha. Do not miss. Similar to pho, this noodle soup is a quick and easy meal. Pick your fillings, and then the waiters continue to add broth from a 5-gallon bucket until you've had your fill. Our guide was particularly excited about the particular shop he took us to because it is where President Obama had bun cha when he visited Hanoi.
Balut. This is not for everyone and was not on the schedule of events, but my partner, Tim, is an adventurous eater. Walking down the street, there was a vendor with a large pot of boiling eggs. Our guide made a joke about trying baby duck, but the joke quickly turned into reality. I'll spare the details of what exactly balut is - not for the squeamish - but it was surprisingly tasty so I was glad to be traveling with Tim, who was totally game to sit on a preschooler-sized stool in the middle of the sidewalk and try it.