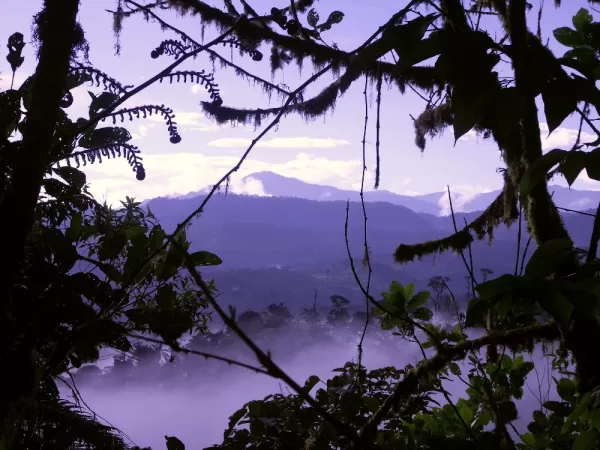 Aug 1
Two hours north of Quito, Otavalo is reputed to be the largest craft and artisan market in South America. We arrive during the week when it is scaled down and far less chaotic with no tour buses. Still, there are row upon row of vendors hawking crafts, ponchos, hats, scarves, swords, hand-woven textiles, trinkets, and so on. The vendors all have their rich indigenous attire, finely embroidered blouses, wool ponchos and felt fedoras. It's all vibrant and colorful, but for me it all blends in and becomes repetitive, and I feel very much like a tourist.
I ask a local where is the local market. He shoots me a puzzled look then tells me I'm in it, but I explain I want to know where she shops, and where locals eat. She looks at me as if to say, why bother, then points, and along with Jeff and Chantel we walk on. The others are black belt shoppers and remain behind.
The local market is much like Latacunga's local markets with streets of vendors and a large warehouse selling all manner of produce, with live and butchered animals hanging on open tables. It is completely devoid of tourists but us and drips with atmosphere and authenticity. There is not a knick-knack in sight, no one attempts to prod and cajole us into buying anything. There are no high-end sellers or buyers, but there are panhandlers and far more grit and edge, which surprises me, as I'd read Otavaleans had done well economically. Then I remember the average Ecuadorean makes only a few dollars a day.
We sit and have a coke and watch Octavian's lunch on fried pork and popcorn. We marvel at the quality and selection of fresh food, from tree tomatoes to purple potatoes, sacks of legumes, tamales to giant brown sugar wheels and bundles of farmed long stemmed roses. My eyes become transfixed with a women wrapped in cloaks and a headdress. She looks as aged and wrinkled as a land tortoise, shuffles from vendor to vendor with a tin pot, begging for scraps. Her face is stunningly poignant, packed with a lifetime of toil and sweat. Each creased line on her face could be a roadmap of her country--deep crevasses, undulating rivers and worn mountain slopes. She could be Hil but for fate's design. She is largely ignored by the vendors. I drop a dollar in exchange for a photo. She barely acknowledges me.
I watch her walk away and feel that I've captured my one signature shot of Ecuador. I have found the grit and edge that I demand in a travel.
As we head back to the van, some locals talk to me in Japanese. I reply in Spanish that I'm not Japanese, that my parents are from China. They look puzzled, then smile and ask if I'm American. It dawns on me that their preconceived notions of me are as accurate as me believing this one picture is the essence of Ecuador. It would be akin to them believing that Canadians are igloos and hockey and not much more and that they, like me, can only understand the soul of a place by getting off the beaten track in the most grueling and punishing manner.
I have to admit to myself this was a very comfortable and enjoyable travel; that I didn't have to rough it to find fulfillment and adventure. I loved the islands and the markets more than anything, but the ship, the hotels, the guides were all first rate and I saw and learned much, not only about the country, but about traveling. The Galapagos does live up to its billing as a once in a lifetime trip. No place else has the allure, the history, such wildlife and such an incredible setting. I am pleased that the push button tour through Adventure Life turned out the way it did. In the past I may have seen a managed travel as disingenuous. But you in the end it really isn't about how you got there, but getting there.