When to Go to the Galapagos Islands?
The
Galapagos Islands
can be visited year-round, as their privileged location on the equator result in an ideal climate for vacationing or embarking on a cruise. You can visit either during the wet and warm season (December to May) or during the dry and cold season (June to November).
However, you might wish to plan your trip depending on which particular wildlife you're hoping to see during your time there.

Galapagos Weather and Temperature
Although the weather experiences only slight changes throughout the year, both seasons have significant moments that make them unique.
The warm/wet season goes from December through May
, with daily showers lasting less than a couple of hours. Temperatures usually hover around 80 and 90 Fº (27-32º C). Air and water temperatures are also higher during this season, making swimming activities (such as snorkeling and scuba diving) more comfortable.
From June to November, the cool/dry season takes place
, with temperatures ranging between 69.8 and 78.8Fº (21-26º C), and there is only a light fog on the islands known as "garúa." It is advisable to wear a wetsuit for diving, as water temperatures are slightly cooler and skies are cloudier during the day.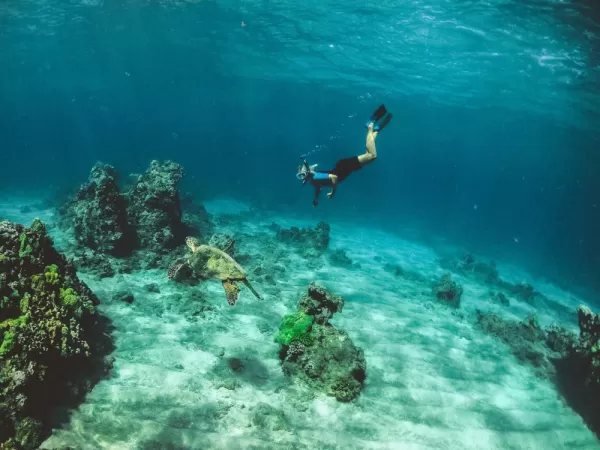 Read more about the seasonal air and water temperatures
.
When to Visit Galapagos for Snorkeling and Diving
If you wish to dive in warm, clear, and calm waters, December to May is ideal despite a slight decrease in migratory wildlife. June to November is a great time to view local and migratory marine animals, yet you might encounter more rain and heavier winds.
When to Go to Galapagos for Hiking 
The Humboldt Current, which travels north-westward along South America's west coast from
June to November
, brings in cooler temperatures making it the best time to hike. 
Best Time to See Wildlife in Galapagos: By Season and Month 
One of the main reasons people visit the Galapagos Islands is the area's rich biodiversity on land, sea, and air throughout the whole year.
No matter when you go, you will see colonies of marine iguanas populating the lava rock and sea lions playing gracefully among the myriad tropical fish, in addition to some of the best birding opportunities in the world. But if you want to see a specific animal's breeding or nesting, then certain times are better than others.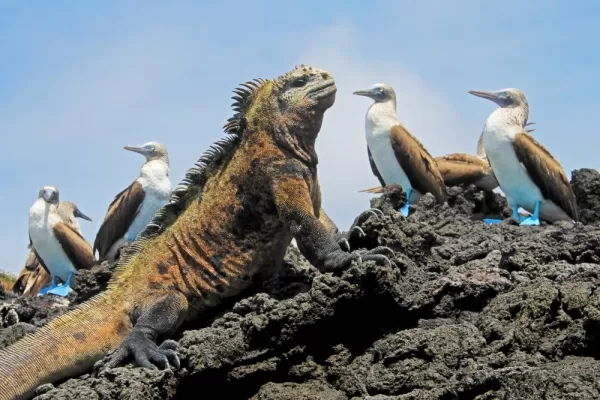 Most of the reptiles in the Galapagos Islands (such as land & marine iguanas and green sea turtles) breed and nest during the rainy season, from December to May. In June, humpback whales visit the Islands, and the seabirds become gradually more active throughout the following months. Sea lions' mating season takes place from July through December.

Galapagos Wildlife by Month
January
Birds - Land birds start nesting.

Reptiles - Green turtles begin laying their eggs; land iguanas start reproductive cycles (Isabela); marine iguanas are brightly colored (Española).
 
February
Birds - Greater flamingos begin nesting (Floreana Island); black-tailed pintails begin breeding season; nazca boobies end their nesting (Española); Galapagos doves nesting season reaches its peak.

Reptiles - Marine iguanas begin nesting (Santa Cruz Island).
 
March
Birds - First waved albatrosses arrive at Española Island.

Reptiles - Marine Iguanas nest at Fernandina Island.
 
April
Birds - Waved albatross arrive in great numbers to Española.

Reptiles - End of hatching season of giant tortoises; green turtle eggs begin to hatch; land iguana eggs begin to hatch (Isabela).
 
May
Birds - Blue-footed boobies begin courtship (North Seymour Island); waved albatross begin laying eggs (Española); storm petrels begin the nesting period.

Reptiles - Green turtles hatching; marine iguanas hatching (Santa Cruz).
 
June
Reptiles - Giant tortoises migrate from highlands to lowlands for nesting season (Santa Cruz).

Marine life - Humpback whales pass through the archipelago in groups.
 
July
Birds - Flightless cormorants perform courtship & nesting (Fernandina); American oystercatchers nest (Santiago); blue-footed boobies nest. 

 

Reptiles- Lava lizards begin the mating ritual.

Marine life - Whales & dolphins pass by the coast of Isabela Island.
 
August
Birds - Galapagos hawks begin courtship (Española & Santiago); Nazca boobies & swallow-tailed gulls nest Genovesa Island); Migrant waders begin to arrive.

Reptiles - Giant tortoises go back to Santa Cruz Highlands.

Mammals - Sea lions begin to give birth.
 
September
Birds - Galapagos penguins active on Bartolome Island; other seabirds active at their nesting sites.

Mammals - Sea lions are very active competing for the female attention.
 
October
Birds - Lava herons begin building their nests; Blue-footed boobies raising chicks (Española & Isabela).

Reptiles - Giant tortoises laying eggs.

Mammals - Galapagos fur sea lion begins mating.
 
November
Birds - Brown noddies begin breeding; storm petrels begin second nesting period.

Mammals - Galapagos sea lions are pupping.
 
December
Birds - Young waved albatrosses beginning to fledge.

Reptiles - Green turtles have their mating display; Giant tortoise eggs begin to hatch.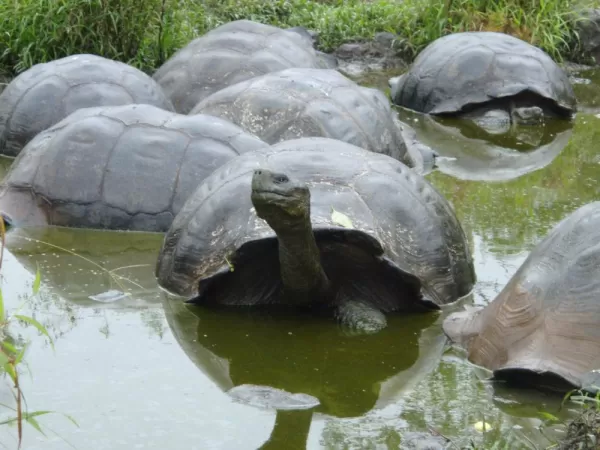 Galapagos When to Go: Low Season vs. High Season
The Galapagos Islands have consistent peaks and valleys in the annual tourism season, and just as planning a trip during the high season means that tours are more expensive across the board, booking during the low season can mean significant savings.
Galapagos' Low Season falls between April & May and September & October,
which is a good time to grab
last-minute deals
and look for promotions. Throughout the rest of the year, it's a good idea to book your tour in advance to ensure that you have a spot. If you wait too long, there's a chance that you won't be able to reserve the itinerary or boat that you want, or you might not find any availability at all.
If you're not chained down to certain dates, then consider booking a cruise at the last minute. Many boats offer major discounts (sometimes 50% off or more) if they have open cabins in the weeks or days before a cruise departs.
Galapagos High Season & Holidays.
Booking your cruise over Christmas and New Year's is one of the busiest times of the year, which means prices can be pretty high. A Galapagos cruise can be a great way to spend the winter vacation, but if you're looking for the best deals of the season, then think about booking a few weeks before or after when there's less tourist traffic.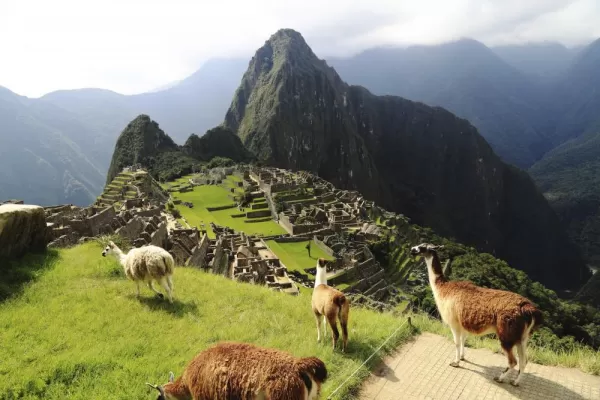 There are also some fantastic deals for combining a Galapagos cruise with a trek to the
Sacred Valley
and
Machu Picchu
in
Peru
or maybe a trip into the dense
Amazon
rainforest of
Ecuador
.
Contact Adventure-life specialists
for expert advice on the best time to cruise the Galapagos Islands.