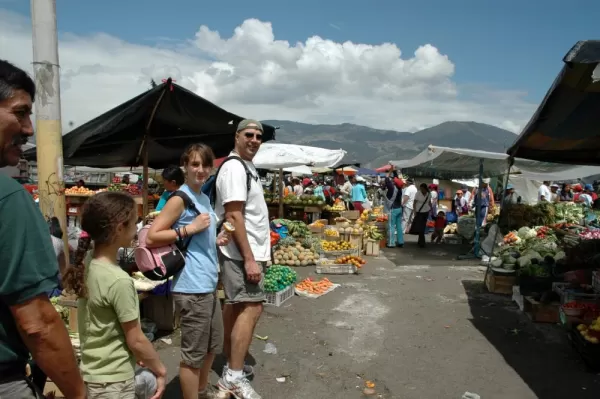 Finally on the way to the Islands, although we are already pumped up by our surprisingly exciting day in Quito. We are disappointed that we arrive on Baltra late due to a flight delay, but it is amazing on vacation how much more tolerant we are of flight delays. The airport is a small building and baggage claim is a shed at the end of the building. The luggage carts are moved around by hand! We have a great time getting to know some of our fellow travelers headed for the Millenium and all get excited when we have to step over a sea lion to go up the gangplank.
We stop at the Tortoise Reserve and get our first sight of the long awaited Galapagos tortoises! We don't even mind the mud and rain as we scramble to get pictures of them before dusk!
We then head to the port to board our boat, and realize that we are not the great athletes that we think we are when we struggle to board the zodiac for the first time in large waves! Lots of help from the crew! We spend our first night on board "enjoying" very large waves while we sleep. Our daughter did not fare so well, but was all better by the morning.