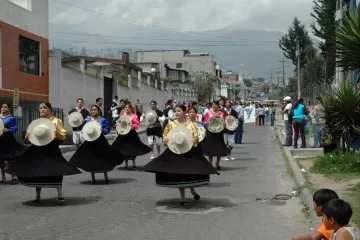 Wow. The Millenium is a beautiful boat with a large central area and covered back deck. We meet our fellow boat-mates, some who have unfortunately not yet gotten their sea legs, and hear about the plans for our first day. We hear (for the first time of many!) that some things are 'endemic' to the Galapagos, and understand the importance of this.
Santa Fe, our first island, is like an alien world. The unusual cactus trees, not to mention the huge land iguanas that we see, are amazing. And then we see... SEA LIONS! We get up close and personal with some on the beach, who are unperturbed by our presence. We find out that some are big posers for the camera! The big beach master sea lion however, lets us know that we do have limits on his beach! We snorkel and play follow the leader with a friendly sea lion who enjoys copying our spins in the water and pulling on our fins!
South Plaza - yet another alien world. (and more sea lions!) The colors of the ground cover are so vibrant and along the paths are smaller bright iguanas. The sea birds along the cliff are amazing to watch and we find a group of 'bachelor' sea lions who bear a remarkable resemblance to a bunch of guys hanging out together on the edge of the cliff.
Now back to the Millenium for more great food and company!