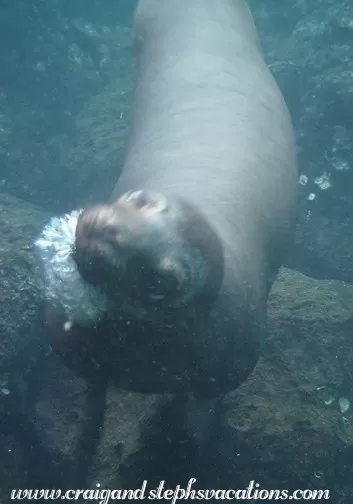 Most people visit the Galapagos via boat. They eat and sleep on the boat and come ashore for day excursions. Most people don't even know that land-based Galapagos tours exist. Our good friends at Adventure Life offered a multi-sport land-based trip that was very intriguing to us. 97% of the Galapagos is national parkland. Only 3% is populated by humans, most of whom emigrated from mainland Ecuador, locally known as "The Continent". This 3% of land (on four islands: San Cristobal, Santa Cruz, Isabela, and Floreana) comprises farmland as well as small towns whose main income comes from tourism. The problem is that people who stay on boats don't inject much money into the local economy. They don't stay in hotels or eat at restaurants, and the ships even have their own souvenir shops aboard, so many of these cruisers never spend a dime on the islands. Money that could help the locals instead goes to foreign investors who own the boats. When we saw all of this first-hand, we were very glad that we chose the land-based option. We would recommend it to anyone. We saw a lot of the cruise passengers on our flights, and they all seemed to have been seasick, gotten stomach ailments, and/or had bad coughs. We have no regrets about our decision.
I was a bit nervous about my ability to do the multi-sport aspect of the trip, as I had broken my right foot in January. I was in a walking "boot" cast for two months, and was not able to exercise. But my doctor said that as long as I wore sturdy shoes and was careful, everything should be fine and my mobility shouldn't be limited, so we set off on the tour with fingers crossed.
We woke up at 5:30 am, finished up some last-minute details, and left for the airport at 7:45. Steve was kind enough to drive us in, waking up very early on a Saturday morning, and for that we are grateful. When we arrived at Logan, the check-in line was very short and we got through very quickly. We managed to do this trip with only carry-on luggage (which makes it much easier when you go through customs returning to the U.S.). Even though the security line was short, it seemed to take forever. You would think that by now, 6 1/2 years after 9/11, people would be aware that they have to put their shoes through the X-ray machine, separate their liquids and gels, no water bottles, keep your boarding pass in your hand, etc. The TSA folks must get tired of repeating the same information all day long. While waiting in line I heard one poor woman utter the same instructions at least 25 times. No wonder they sometimes get cranky. We ate breakfast at McDonald's (the only time we ever eat fast food is in airports, so it becomes a guilty pleasure). They didn't have the large water bottles that we usually buy for a trip, so we had to settle for smaller ones. I couldn't resist the organic chocolate chip cookies at the kiosk where I bought the water, so I bought two of those as well.
American Airlines was in the midst of a crisis at the time of our trip. Half of their fleet of MD-80's were grounded for electrical inspections and repairs, and over 250,000 passengers had their travel plans disrupted in the week prior to our flights. Luckily, our flights were 757's and were not impacted. Our flight departed on time, but it was miserable. We weren't given the seats which we had chosen online, and we ended up across the aisle from one another. The beverage service took forever, as they were selling food at the same time. It seemed that each and every passenger asked to see the food selections, chose a selection that the flight attendant didn't have on the cart, paid with a big bill for which they didn't have change, and on and on. Why can't they do the food separately? Why make everyone suffer? The flight attendants also played favorites, giving free food and extra alcohol to some people who purchased food, while pretty much ignoring the rest of us. Craig's neighbor had to get up to use the bathroom four times during the three hour flight, so it seemed that we never could just sit and relax. It seemed that everyone had children on the flight yet nobody obeyed any of the rules. During extreme turbulence when the seatbelt sign was on, toddlers were roaming free in the aisles, overhead bins were left open, etc. It was as if none of the other passengers had ever flown before.
The movie was supposed to be "The Water Horse", which we had always made fun of because it looked schmaltzy beyond belief, but it turned out to be "National Treasure 2". We didn't listen to it, but from what we could see, it looked like its sole purpose was to inspire a thrill ride at Disney World. The guy next to me (whose wife was given a free sandwich) ordered a bloody mary, and our flight attendant Breck went to his own luggage and got out a bottle of Tabasco sauce for him to borrow. The bottle was larger than 3 ounces, and we wondered how the liquid/gel rules were different for flight attendants, and why they would have to flaunt it. The couple next to me were a very sweet middle-aged couple, but their cheerfulness irritated me because I found this flight to be miserable. This 3 hour flight seemed longer than our 15 hour flight from New Delhi to Chicago last year.
We landed in Miami at 2:45 pm, and the connecting gate to Quito was announced. When we arrived at the gate at 3 pm, we realized that it wasn't our flight (5:45), but was instead an earlier one (3:40). The earlier flight had not begun boarding yet, so we decided to try our luck getting a standby ticket. The woman at the counter asked if we had any checked luggage, and when we said no, she immediately ticketed us for the flight - two seats not only together, but in the exit row. We were thrilled! I called Adventure Life to let them know about the schedule change, as we had booked a transfer from the airport to the hotel. The Adventure Life staff member on call for the weekend couldn't believe that with all of American Airlines' current troubles, we would actually get to our destination early, and she promised to relay the message to their Quito staff.
Within minutes we boarded the plane, and had three exit-row seats to ourselves. We had ample legroom, cool ventilation, blankets, pillows, etc. Our luck certainly had changed since our previous hop! My mood immediately swung 180 degrees, and I was in the right frame of mind for a vacation. The flight attendants were incredibly friendly and brought our beverages right away. We were fed beef in gravy with mashed potatoes, vegetables, salad, bread and butter, and a lemon cookie. The flight lasted 4 hours, and we landed in Quito (1 hour behind EDT) at 6:45 pm.
The airport terminal where we arrived was quite modern, with a long steel and glass corridor. We were close to the front of the immigration line, and it moved quite efficiently. There was a digital screen which displayed which position was open, and a man directed you to that position. We had no bags to collect so we went straight through to customs, where they scanned our bags. Despite the fact that we were 2 hours early, our driver was waiting for us with a sign bearing our names. He was very friendly and introdiuced himself as Angel. He brought us to the van and then realized he had forgotten to pay for parking. He excused himself and literally ran to pay the parking, though we assured him not to rush, that we would be fine in the car.
He chatted with us as he drove us down Avenida 10 de Agosto (which commemorates the date of Ecuador's independence in 1809). He told us that the airport was renovated five years ago, but it causes problems because it is right in the middle of the city, so they are building a new one 30 km away. We asked Angel for recommendations for good Ecuadorian food near our hotel, and he recommended a place called Mama Clorinda.
We soon arrived at the Hotel Eugenia at 7:30, a cute boutique hotel unfortunately sandwiched between a Burger King and a Baskin Robbins. Angel escorted us past the armed guard and into the lobby, and made sure that we checked in with no problems. He told us that we would be picked up by a fellow named Guillermo at 8:15 on Monday morning for our airport transfer. We said goodbye to him and were shown up to our room (210). The hallway and staircase landings were decorated with frosted and stained glass, and flowers sculpted out of metal. Bright bold paintings and a tile mosaic of the city adorned the walls.
Our room was very nice, with Spanish colonial furnishings. It was on the corner of the building, and the view out one window looked directly down on the Burger King drive-thru window. We got settled in the room and tried to decide what to do next. Neither of us was especially hungry,and we both felt unusually exhausted. Usually when we get to a new place, we want to start exploring immediately, but we just didn't have the energy (we would realize later that it was probably due to the altitude.) A double decker party bus drove by the hotel packed with people and the ubiquitous Latin American brass band. This just convinced us that we really weren't up to going out. We decided to just stay in and relax, and wound up watching "Little People, Big World" (or "Personas Pequeñas, as it was subtitled) on their People & Arts channel, and fell asleep at 10:00.
The room was quite chilly (there was no heat in the hotel, and the night was quite cold), but the alpaca blankets were quite warm, so we went from shivering to sweating throughout the course of the night. At around 3:00, we were both awakened by the sound of local drunken club-goers getting a midnight snack at Burger King. It sounded like they were in the room with us. We put in our earplugs and I managed to get some REM sleep and dreams throughout the night, but Craig didn't get very much. We woke up for good at 6:40 am and Craig noticed that Burger King had a sign touting that it was open until 6 am. Lucky us!