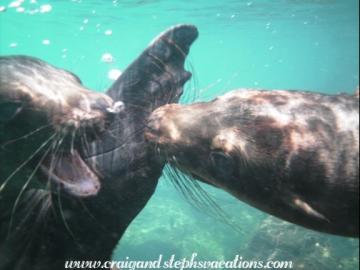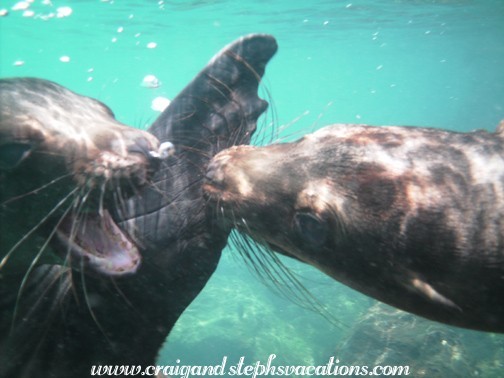 The shower had decent water pressure and the water was warm. Refreshed, we headed out on the town at 8:30 am. We wandered up Reina Victoria, meandering down its side streets. We soon reached a district (Mariscal) which was full of backpackers hostels. It was very picturesque and had an international flair, with little English and Irish pubs, a Swiss-style chalet, etc. The hostels were reasonably priced and many offered private rooms and baths and laundry service. It seemed like it would be a pleasant area to stay. There were many restaurants and cafes around, as well as salsa dancing schools and Spanish-language schools. Being Sunday morning, the streets were pretty dead except for taxis eager for fares. Each one that passed us would toot its horn hopefully. We passed a mural of John Lennon on the side of a cafe which had been named for him. I posed with Lennon for a photo. As we continued up Reina Victoria, we ran into Mama Clorinda, the restaurant that Angel had recommended to us. It wasn't open for breakfast, but we made a note of its location in case we wanted to go there for dinner.
We wandered around, enjoying the quaint tourist district (but realizing that its charming appearance might belie something a little seedier, as signs warned prostitutes and drug dealers that security cameras were in operation). We always enjoy the humorous names for American-esque establishments in other countries, and this was no exception. We passed by "G Spot Hamburgeuesas Originale" and "Uncle Ho's Fresh Asian Food" which had a cartoon portait of Ho Chi Minh done in the style of that famous Che Guevara photograph.
We were getting hungry now, and after much deliberation we decided on a bed and breakfast/restaurant called Magic Bean which had a good number of people enjoying breakfast. As we approached the entrance, a little girl approached us begging for money. Her mother and siblings sat on a nearby corner. It is always hard to say no to children, but teaching children to beg is not the answer to their family's poverty.
We entered the cheerful restaurant's porch, and were shown to a table in the corner next to a propane heater. The place specialized in coffee and fresh fruit juices. I ordered a Nectar of the Gods juice (a tasty mixture of pear and apple) and Craig ordered Apple Ambrosia (apple, pineapple, and strawberry). There is nothing like fresh pure juice, and it really hit the spot. For breakfast, Craig ordered the Huevos Rancheros Magicos (a flour tortilla piled high with two fried eggs, sauteed onions, green and red peppers, refried beans, and cheese). I ordered the French Toast, which was served with sliced fresh fruit (pineapple, strawberry, banana, and orange) as well as a little dollop of whipped cream drizzled with chocolate. The four slices of French toast had a cinnamon flavor, and were cooked to perfection. We had ordered a side of home fries with cheese, and were served a platter of multiple sliced-up potatoes and some separate slices of cheese.
There was so much food that we ate until we were bursting and still had food to spare. We decided that we would give the food to the family begging outside. At least then they could have breakfast. We asked for a to-go container and boxed up a slice of French Toast, a pile of potatoes, and some cheese. The little girl immediately came over to me and pointed at the food. I asked if she was hungry for breakfast and she said yes. I handed her the box and she said gracias and ran it over to her mother. I asked the mother if I could get a photo and she demanded $2, so we looked at her in disbelief and just walked away.
Two college girls came over to us and asked if we would take a tourism survey. We chatted with them, and while we filled out the survey they gave us some suggestions of activities. We told them we wanted to go to colonial Old Town, and they suggested that we go there at night, as the buildings are all lit up and look very pretty. This was something we hadn't known, and we were happy to get the advice. They said that Mama Clorinda did have good Ecuadorian food, if that was what we were looking for. We said goodbye to them, and headed toward the park for the weekend market.
As we approached the park, we saw the Iglesia de Santa Teresita, a gothic church with darkly ornate spires, gargoyles, etc. We admired it from many angles and got some photos. Mass was going on inside, and we could hear the congregation singing. We continued our walk to Parque el Ejido. Just as we were about to cross the street to the park entrance, a woman got our attention and pointed excitedly at Craig. There was a large bright yellow stain on his coat. I worried that it was paint, but Craig knew right away that it was mustard. This is a common scam in Latin American cities which we had read about. People splash you with something and pretend to help you clean it up. While you are distracted, they pickpocket you or steal your bag. We kept our wits about us, thanked the woman (though she was probably a part of the scam herself) and quickly walked over to an open area near a police officer to clean up, where we would have a view of everyone around us. Luckily there was no real harm done that a load of laundry wouldn't fix, but we probably wouldn't have a chance to do laundry until we got home to the States. After cleaning up as best we could with napkins from our pockets and water from our water bottles, we continued on our way to the park, feeling slightly depressed about what had happened. In all of our travels we had never been targeted before (to our knowledge anyway), and a slight sense of disillusionment kicked in.
As we reached the entrance to the park, there was a stone arch and a monument which were both covered with graffiti. Come to think of it, there was a lot of graffiti around the city, which was a shame. Along the front perimeter of the park, many artists were displaying their paintings. These paintings were in a variety of styles, from the very traditional to the very modern and surreal. Some of the more traditional ones depicted local landscapes, and one artist in particular seemed to specialize in paintings of the sun setting behind volcanoes. Another caked on paint to make interesting textures. One artist spoke to us, and he was very nice. There was no pressure to buy; he just chatted and showed us a book from an art exhibition in which his name was listed. Some of the more surreal pieces on display depicted a train in the sky, dropping giant apples and balloons onto a colonial town. It had interesting colors and was very trippy. The art was gorgeous and seemed reasonably priced, but there was no way we could buy something so unwieldy, especially at the beginning of a trip. We enjoyed looking, though.
After meandering through but a fraction of the artists' displays, we turned down one of the many paths to enter the park, which put us in a line of cramped market stalls. Feeling a little flustered after the mustard incident, as it came to be known, we were a little bit overwhelmed at the market chaos. We didn't know what we were looking for. There were lots of nice textiles, but they were very similar to ones we had bought in Guatemala. All of the prices that were quoted seemed exorbitantly high (Ecuador switched from the sucre to the U.S. dollar in 2000, and when something is in your native currency, the ridiculous prices stand out all the more. You don't need to do any on-the-spot math to realize that a little picture made from a couple of pressed leaves isn't worth $12). We like to buy a lot of things and spread money around, but we weren't in the mood to haggle and, apart from a doll at the very first stall we visited, didn't see anything we really needed. So we left the stalls behind and wandered through the park a bit, confident that we would find souvenirs in the Galapagos even if we didn't find any in Quito.
The park was great, and had lots of jungle gyms, swings, and slides for children. Today being Sunday, there were lots of local families enjoying the park, and it was fun to watch. There were some great little pedal-powered cars that kids were riding on the paths, and everyone seemed to be having a great time. We came upon an area right in front of the modern glass exterior of the casa de la Cultura Ecuatoriana where there was a large gathering of people holding signs. We tried to figure out their cause by the Spanish signs, and eventually worked out that they were an anti-abortion rally. The requisite South American slightly-off-key brass section played music and some people fell into step behind them. When the State Department tells you to avoid large demonstrations and gatherings, this is exactly what they are talking about, and we decided to keep moving. We sat on a park bench for a few minutes and contemplated what we wanted to do next.
Although it was now mid-day, after our huge breakfast, neither of us were even remotely hungry for lunch. We weren't sure how far a walk it was, but we wanted to head to Old Town on foot, to get a better feel for the city. We walked through some areas where there weren't many tourists, which were lined with businesses which obviously catered to a local crowd. We walked up several steep hills, and were immediately winded. It was now that we realized that the altitude was affecting us, and that probably accounted for our sluggishness and non-appetite last night. Along the walk, we ran into three locals, one of whom was a teenager in white face makeup. He mimed and clowned a bit to make us laugh.
Suddenly the imposing gothic basilica was towering above us atop a hill. Ominous dark clouds were gathering behind it, adding to its gothic appearance. It was absolutely majestic. We walked up the hill and noticed that Mass was just getting out. An enterprising woman was selling empanadas to people as they streamed out the doors. We were getting ready to go inside to check the place out, so we took off our hats. That was all the pigeons needed. No sooner had Craig exposed his head that pigeon poop fell right onto it. First mustard and now this; it was a messy day! We cleaned Craig up and then headed inside.
Baptisms were going on, but visitors were allowed inside anyway. The building was so large and sprawling that you could easily walk around without disturbing the proceedings. We walked around quietly and admired the architecture. The stained glass was jaw-droppingly gorgeous. The details of the scenes were so intricate, and the colors were incredibly vibrant. The windows depicted the stations of the cross as well as other well known Biblical stories such as the Good Samaritan. I had never seen anything like it before. The basilica was immense, and we walked its perimeter, marveling at window after window. There were various small chapels tucked into corners. Candles were flickering and there were sheer pieces of cloth draped above religious statues. It was very peaceful. There was a beautiful rosette window that reminded me of the medieval cathedrals of Europe.
After exiting the basilica, we stood on top of the hill (with Craig's head now properly protected by his hat) and looked around. We could see the large statue of the Virgen de Quito in the distance looking down on Old Town. From the basilica we followed picturesque colonial streets downhill to Old Town. The architecture reminded us very much of Antigua, Guatemala, with bright colored buildings with fresh white trim, and wrought iron work surrounding second floor balconies. We stopped in a little store and bought Gatorades for $1 apiece. They also had nice rest room facilities that we were able to use.
We continued down the quaint streets to Old Town. We peeked inside a variety of shops. Some of the store windows contained pirated DVD's, and others toys, clothes, or souvenirs. Again, being a Sunday, there were lots of families in the Plaza de la Independencia, and lots of activities going on. There were small dramatic troupes putting on political skits, and there was an Andean band playing traditional music to a large crowd. We lingered in the square next to a statue for a few minutes, enjoying the music and planning our next move. The song drew to an end and another song started. This one was familiar...were they actually playing "Piano Man" on guitar and reed flutes? Then the vocals kicked in. It was in Spanish, but there was no doubt as to what the song was. Too funny!
A gentleman approached us and started up a conversation, and asked if we would like to hire him as a guide to Old Town. We were enjoying doing things at our own pace. We knew we would learn a lot from him, but we were enjoying doing things on our own. If we had wanted a guided tour of Quito, we would have booked one for this day. We politely said no thank you, and he tried to bargain with us, and said he would only charge $5. It was certainly tempting, but it wasn't really about the money. We didn't want to get locked into anything, and politely declined.
We walked a couple of blocks behind the square, and passed some really gorgeous colonial buildings. We walked by a street musician sitting on the ground playing "El Condor Pasa" on guitar and accompanying himself on reed flutes. We gave him a dollar and took a photo. We walked by the huge imposing Iglesia de San Francisco and its walled convent, South America's oldest church. It had been built in 1534 on the site of an Incan temple. Although we had no real set itinerary for the day, the one must-do for me was the Iglesia de la Compañia de Jesus. La Compañia, as it is commonly known, is arguably the most beautiful church in Latin America. We have seen some beauties, so this is no mean feat. Things I had read said that it is open to visitors daily, but that on Sundays the hours are restricted because of Masses. I had read that it was open between 1 and 4 p.m. The afternoon was slipping by; it was now 2:30, and we wanted to make sure to make it. We wandered the maze of streets and it was difficult to tell which building was which. There seemed to be churches everywhere. We thought we had found it, a rather non-descript building from all but the front, which was nicely carved and had a cameo image of the Virgin Mary in the center above the doors. But it didn't seem to be open. We asked a security guard, and after an initial misunderstanding about what he had actually said, we realized that it actually opened at 4 pm, rather than closing then. We were confused, but obviosuly he would know better than we would.
So now, rather than being in a rush, we found ourselves with some time to kill. We wandered up the street and enjoyed the colorful architecture. We came to a yellow archway (El Arco de la Reina) which reminded us of the Arco Santa Catalina in Antigua and the archways in Merida. As we passed through, we could see the Virgen de Quito in the distance framed by the arch. It was gorgeous. Right at the archway was the church of Carmen Antiguo de San Jose.
As we took pictures in the square in front of the church, we saw a man in the distance across the street stirring some sort of food in a large pot. I took a picture of him and he smiled and struck a silly pose. We then wandered down there and went to see what he was mixing. It was a large vat of peanuts. The woman working with him took out a spoon and scooped some out for us to sample. They were warm and toasty and covered in a sugary coating. Absolutely delicious! They also let us sample roasted coconut and some other roasted fruits. Everything was delicious, but we were sold on the peanuts. We had no idea how much anything cost. We bought the largest bag they offered, and it cost only a single dollar.
We went back to the Monasterio de San Francisco. The doors were open and people were starting to congregate for Mass. We entered and walked around the church and sat in a pew for a moment taking it all in. The church was in the process of being restored. There was a very grand pipe organ in the choir loft. The ceiling under the choir loft was gilded. The wall behind the altar was covered with a tapestry that depicted the ornate embellishments which were no doubt being restored behind it. On the altar was a large statue of Jesus bearing the cross, and in an alcove there was a statue of a priest which was holding what appeared to be an authentic human skull. Catholicism in Latin America is definitely darker than in the USA. There were some very old-looking frescoes which were in need of restoration. Walls were made of stone block and there were small cupolas on the roof which let natural light inside. Long thin candles were scattered on the ground, and an archway was decorated with motifs which looked like Celtic knots. There was scaffolding inside as well. I took a church bulletin from the pile, and after a few minutes of enjoying the serenity, we headed back out before the service began. As we walked across the plaza in front of the church, a man came over to us. We weren't sure what he was saying but he offered his hand. Security was watching the whole incident, came over to us, apologized, and led the man away.
We wandered around a bit more and then headed back to La Compañia. It still wasn't open, but there was a crowd of people in a small circle in front of the church. These were mostly locals, and we wondered what had captivated their attention. Squatting on the ground was a young man surrounded by cans of spray paint. He took a blank sheet of poster board, and began a painting. He sprayed the paint in short bursts at a very fast pace. He had a few paper stencils and tore pages from the phone book to dob the paint to create texture. He would use a lighter to ignite the stream of paint coming out of the can in order to make it dry immediately and create an enameled shiny finish on some pieces of the painting. The painting took shape into an outer space planetscape, with an ocean and dolphins jumping. It was amazing to see the painting evolve, and when he was done, it was very impressive that he had created such a detailed work with such crude tools. The crowd was mesmerized. One little girl standing near me started to play hide and seek with me. She was very cute, and I asked her age, which turned out to be four.
When the artist was finished, he gave some instructions to the crowd in Spanish. People took out money, and we realized the brilliance of his business model. He creates a painting in about 15 minutes, and in so doing, entertains the crowd. He then sells raffle tickets for a small amount of money. Many people buy a chance, and then he has an audience member pick a number, and that person goes home with the painting. That way he makes more money than he would ever get for the painting from a single person, and also more than he would get in tips. It is a brilliant business model. The woman who won it was very excited. Then another young woman approached him and commissioned a piece. He asked for a photo and she showed him a tiny wallet-sized photo. He stared at it for a moment, and then returned it to her. He immediately got to work. We had no idea what image she had shown him, but very early on, Craig predicted that it was a forest scene with river and waterfall. As it took shape further, it was obvious that he was right.
At around 4:20, the doors of La Compañia were opened, and a lot of people from the artists' crowd went inside. We followed the crowd and were speechless with what we saw. Almost every surface of the church's interior was gilded in gold. Some of it had been restored and was unbelievably shiny in the display lighting. Celtic style motifs (also in gold) adorned the ceiling. The altar was breathtaking with angels bearing a giant crown, and a portrait of the Virgin Mary. There were golden adornments everywhere. The place was truly awe-inspiring. The church is rumored to contain 7 tonnes of gold leaf. There were lots of security guards at this priceless shrine.
We saw our 4-year-old friend inside and she smiled and waved. People were seated in pews and beginning to pray the rosary. As we exited, we noticed a sign (which had been put up after we were already inside) that said the church was closed to visitors during Mass. We were a bit confused about why the hours were so different than usual, but then we saw a poster which said that this was a special season and Novenas for the Virgin Dolorosa were prayed at 4 pm. We were lucky that we were able to see the church; we wouldn't have gone in if the sign prohibiting visitors had been there at the time, and once we were inside nobody asked us to leave. So after a quick tour, we quietly headed out.
La Compañia had been constructed in the 16th century, and had taken 163 years to complete. The martyr Mariana de Jesus' remains are located at the foot of the altar. She had sacrificed her life in 1645 to save the city's population after 14,000 people died from an earthquake and subsequent epidemics. Immediately following her death, the plagues subsided. She was canonized the Lily of Quito by the Pope.
Though the skies had looked threatening all day, we didn't really get any rain, and now, close to 5 pm, the sun had finally peeked through. We took advantage of the nice lighting to get some more photos. We headed to the Plaza de la Independencia and watched a comedy troupe in white face makeup for a while. A little girl's ball went awry and Craig stopped it and returned it to her. She smiled and said gracias. We weren't quite sure what we wanted to do, and sat on a park bench to think about it. The man who had offered us a $5 tour earlier came by and asked if we had changed our mind. We said that we were just taking it easy. He said "That's ok. You're American. You can't help it. George Bush took all your money." He smiled and walked away, and we got a good chuckle.
Sunset is around 6 pm every day of the year, given that Quito is so close to the equator (sunrise at 6, sunset at 6). It was now after 5:00, and we were basically killing time until darkness, when we could see the city all lit up. We weren't ready for dinner, but we needed to find something to do. We ventured beyond a building's facade and ended up in a typical Latin American courtyard with a fountain. There were several shops, and stairs up to additional levels. On the second level, we saw an interesting display of handicrafts. As we browsed, a young woman offered her assistance, but was not pushy at all. This was Mavic Handicrafts, and they sold a wide variety of items from around Ecuador. We picked up some very cute gifts for very reasonable prices, and were quite glad that we had stumbled upon this place.
We decided we would have a drink while waiting for the sunset, so we headed up an additional flight of stairs to "Hasta la Vuelta, Señor...", which advertised Quiteñan cuisine. We told them we were just interested in drinks, and they sat us at a nice table overlooking the courtyard below. Craig had an Ecuadorian Pilsener, and I had a deliciously creamy pina colada. We were served plain and seasoned dried corn kernels and a very delicious chili sauce to dip them in. We read the menu, which explained how the restaurant got its name: Manuel de Almeida Capilla, a priest at San Diego Monastery, had used the crucified Christ statue on the altar as a ladder for nightly escapes to keep trysts with young women of the village. One night the Christ spoke to him and asked "Hasta la vuelta, Señor?" (Until when, Father?) Almeida replied "Until I come back!" This continued for a while, until on one of his forays outside of the cloistered walls, he spotted a funeral procession on its way to bury his own lifeless body. Terrified, when he returned to the monastery, the Christ asked him again "Hasta la Vuelta, Señor?" Father Almeida never again escaped from the monastery, and grew to be unusually devout.
We stayed at the restaurant until it got dark, and then we headed outside. Old Town was aglow, and it was beautiful. The sidewalks contained sunken lights which lit up te facades of the buildings, highlighting the architectural details. It reminded us of Merida, Mexico at night. The cameo of the Virgin Mary on the front of La Compañia was ringed with blue lightbulbs. Buildings glowed, illuminated by white, blue, and purple light. We could see the Virgen de Quito all lit up on the hill. The ambiance was gorgeous, and there was plenty of security around. Old Town at night seemed pretty safe.
We hailed a taxi (there were decidedly fewer at night and they were busier than this morning). A man and his wife picked us up in their cab. We asked to go to Mama Clorinda on Reina Victoria. They didn't know the place, and we couldn't remember the cross-street. But after a little looking, we were able to find it. He charged us $5, which seemed like kind of a lot for the short drive, but we didn't care. As we entered the small restaurant, there was a young man playing the guitar. We were thrilled that we had found live music. That was a bonus. Well, he finished up his song and then packed away his equipment. Figures. Timing is everything. At least when he walked around the dining room soliciting tips, he skipped us. I mean, we only heard him play for about 30 seconds.
Craig ordered a Pilsener and I had a juice named "Happy Japa". I ordered two empanadas de morocho (beef empanadas) and locro de queso (which had been recommended as traditional ecuadorian food by Angel.). It was a potato cheese soup served with avocado. Craig got Angel's other recommendation: churrasco. Much like Peruvian bistek al pobre, this dish included grilled beef steak piled high with rice, fried eggs, salad, and french fries. When the waiter served us, he answered our thank yous with "buen provecho", a phrase which we learned from Paulina in Guatemala. We smiled as we thought of our Guatemalan "family." The empanadas were different than I had eaten in the past, since they were made from corn and were difficult to cut with a knife. I gave up and ate them by hand. There was a lot of food, and I wasn't able to finish it all. We really enjoyed our meal, and when we were done, we walked back to the hotel.
Our room (210) hadn't been made up, and we realized that it was likely because we had taken the only key with us for the entire day. I wrote in the journal until 10:45 while Craig flipped channels on the TV. There was nothing of interest on, and after watching a few minutes of Courtney Cox's unbearable "Dirt", we shut off the TV and fell asleep. Despite the overcast skies, at this altitude and latitude, we had still gotten a little bit of a sunburn.