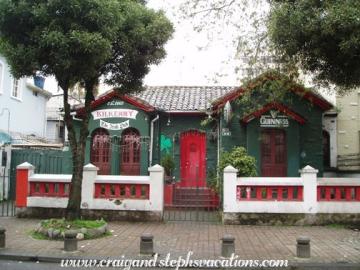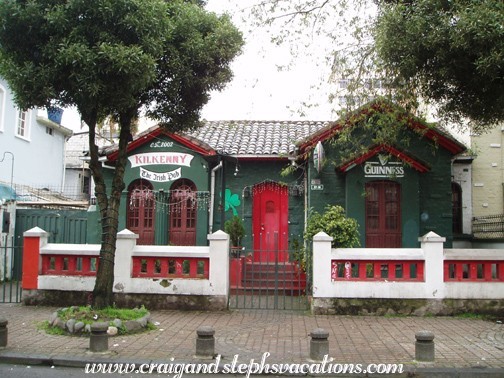 We woke up at 6 am and got ready for the day. Sebastian had bribed the kitchen girls with chocolate so that they would have our breakfast ready half an hour early. We had fresh blackberry juice, croissants with marmalade and butter, and fluffy scrambled eggs with bacon bits mixed in. As with every home-made meal from Casa de Marita, it was absolutely delicious. At 7:45, we met Omar, today's naturalist guide. A van picked us up and drove us for around an hour. Sebastian flipped through a newspaper, which had an ad for the Doors playing in Quito tonight. It boasted a photo of Jim Morrison, whom we're pretty sure wouldn't be in attendance. We could see the vegetation changing around us as we moved inland and climbed in altitude. As we approached the volcanic areas, the roads were very washed out, and it was slow going. At one point Sebastian had the driver stop because he heard a vermillion flycatcher. We looked for it in the trees and I spotted it and pointed it out to the group. It was gorgeous with a bright red breast.
<br/><br/>
We stopped on a hillside with a beautiful view down onto the island towards the ocean. The lush green vegetation faded into the hazy distance toward the horizon. Hoover the horseman had several horses waiting here to begin our ride further up Sierra Negra volcano. We were introduced to our horses: Craig's was brown with a white patch on his forehead, and his name was Lucero. Mine was a dark ginger color and his name was Chevaro. They were small horses, and we rode through well-worn horse trails carved through the vegetation. The horses had nice temperaments, and didn't really try to stray from the trail or stop to eat all the time, as previous horses we had ridden had done. There was competition however, and my Chavero always wanted to be the leader of the pack. He muscled past the others whenever possible.
<br/><br/>
My right stirrup was a bit too short, and my foot (which was delicate from having been broken at the end of January) was getting stiff and sore from the angle. As we neared the top of the volcano, there were gorgeous views of the Isabela shoreline. We passed some grazing cattle. When we reached the
rim of caldera, we could see the entire crater spread out below us. Steam was venting from a far corner, and we were reminded of the fact that this is an active volcano. It was an impressive sight. Omar recounted a story about the most recent eruption in 2005 - when he had led a group up the mountain in the morning, and it had blown that very afternoon.
<br/><br/>
we could see the areas which had been affected by its last eruption on the caldera floor below us. The lava was much darker there. In other parts, where the lava was older, vegetation was beginning to sprout up. As we rode around the crater, our horses became excited, and graduated to a comfortable trot and then to a full-on gallop. As soon as another horse came up behind Chevaro, he got that "...and down the stretch they come!" energy boost and just took off even faster. It was exhilirating. I was feeling more comfortable on a horse than ever before, and found myself moving with the horse without holding on for dear life. I trusted Chavero and enjoyed the ride.
<br/><br/>
I needed to stretch my foot, so I asked Hoover if he could lengthen my stirrup. Craig's also needed some lengthening, so we stopped and adjusted them, which made a huge difference. Then we continued riding to a hitching post where we dismounted and left the horses with Hoover. Omar pulled out a map of the island and showed us that if we looked north, we could see the part of the island that resembled a seahorse. We realized just how much of the island was pristine and uninhabited by humans. We walked through an area with some amazing old trees. We saw caterpillars on the vegetation and some large spiders in webs suspended across the trail.
<br/><br/>
We soon reached a stone staircase followed by a trail through the lava. My foot and ankle were feeling sore and weak from my stirrup, and as I stepped from one piece of lava rock to the next, my ankle couldn't bear weight and I fell. I scraped my arm on the lava and the camera smashed against the lava rock, creating a spiderweb crack on the plastic lens cap, but luckily everything still functioned properly. I was worried about my foot. The fall had hurt it more, and I hoped I hadn't re-fractured it. At least it was the end of the trip, but I didn't want to spend another several months in a walking cast at home.
<br/><br/>
Sebastian and Omar were concerned and asked if I wanted to continue. I certainly did want to, as it was gorgeous here and volcanoes are one of Craig's favorite things. They said that we could always split up, but I really wanted to continue on. Sebastian helped to clean up my bloody scraped arm, and we continued on. They pointed out all of the lava formations, including some "silica hairs" - pieces of molten lava which were caught by the wind, stretched, and dried into fine strands as delicate and thin as a hair. I couldn't believe it, nature's own extruder. He also showed us iridescent pieces of scoria. They brought us to a fumerole, a vent in the volcano which lets hot air escape. We placed our hands above it, and surprisingly hot moist air greeted us. As we continued on, we could see the obvious demarcation between different lava flows. On one side were opuntia candelabra cacti, and on the other side barrenness.
<br/><br/>
We approached Volcan Chico, passing hardened lava bubbles which had vegetation growing under them and collapsed lava tubes. Everything had a very autumnal color palette...red, black, gray, and yellow. You could smell a slight trace of sulfur in the air. We climbed to the crater of Volcan Chico, and it was quite impressive, a beautiful desolation or a moonscape. Each ridge brought a different view and from the rim you could see Isla Fernandina. Sebastian passed out snacks...mixed nuts and Tango cookies (which were like moonpies). The ground was covered with scree, and I slipped and fell on my rear end while just standing there. I stayed in that spot and ate the rest of my snack, again worried about my foot. But walking it off seemed to have done some good. We walked back again as the sky darkened and it began to sprinkle rain. We passed a group of hikers heading out where we had just been, and we realized that their view wouldn't have been so good because of the clouds. Our timing had been very lucky.
<br/><br/>
We got back to the hitching post and mounted our horses for the descent. There was definitely a rivalry between my horse and Sebastian's. I started to take a movie from horseback, and Chavero just took off so fast that I had to grab the saddle horn. I dropped the camera (which was luckily tied to my hat) mid-movie while still recording, so the resulting footage is quite funny. Hoover and Omar stopped for a moment on the ride down, and Craig's Lucero refused to move again until they were behind him. Sebastian and I were considerably far ahead of the rest of our group. When Hoover and Omar were ready, they ran their horses to try to catch up, and Lucero took off at such unbelievable speed to catch up that he caught Craig offguard.
<br/><br/>
Sebastian and I met a group of other tourists on horseback (including the Boston couple we had met last night). Sebastian's horse tried to nudge his way through, and there was no way Chavero was going to let Sebastian get in front of him! Chavero muscled through, tangling my leg up with Sebastian. I held on and managed to stay on as he pushed his way to the front of the pack. Sebastian and I both started to laugh, but it was also a reminder that we were merely along for the ride and were at the total mercy of our horses.
<br/><br/>
One of the other women's horses had stumbled into a ditch, but she remained calm and there was no harm done. Craig had witnessed this and it had been a little scary. He was very impressed with the woman's composure and the way she handled the situation and managed to stay on the horse. We continued our ride down the volcano, with the horses trotting and running at their whim. But as we reached the bottom of the mountain, our horses were no longer allowed to run, as they might get a foot caught in the rutted mud. Despite a few sprinkles, the weather managed to hold out. We dismounted, thanked Hoover, and headed back to town. Omar had an mp3 player and played America's "Horse with No Name" and Queen's "I want to Break Free," which Sebastian said was an appropriate theme song for my horse.
<br/><br/>
We got back to the hotel at 2:00 and had lunch at 2:30: hot squash quiche and oven chicken with rice and palm heart salad. We felt bad because the kitchen staff stayed late waiting for us in addition to coming in early for us this morning. I hope that chocolate Sebastian gave them was worth it! We had a nice chat with Sebastian. Dessert was a fresh caramel fruit cake. We went back to the room and contemplated how to spend our afternoon. We wanted to swim and check out town, but it was quite warm and we were starting to feel tired after our week of adventuring. We ended up staying in the room, enjoying the air conditioning, writing in the journal, and looking through our digital photos. We took showers and got dressed for our last evening in the Galapagos.
<br/><br/>
The 7 pm chocolate was delivered to the room, and then we went to dinner at 7:30. We had a salad featuring white asparagas. The main dish was spaguetti con pulpo - spaghetti in a red sauce with chunks of purple octopus. It was delicious! This was the same type of octopus I had had in the ceviche at Finch Bay. We had naranjilla juice to drink, and dessert was a toasted concotion of coconut, condensed milk and fruit. Delicious!! We reflected on our trip, and how we easily could have stayed on Isabela for a few days longer. This island was gorgeous and very laid back. Its slow pace had really suited us after a week of constant activity. We hadn't even gotten a chance to swim at the gorgeous beach right outside of the hotel. We were definitely already thinking about the possibility of coming back to Casa de Marita some day.
<br/><br/>
After dinner, we went downstairs to the office, talked to Marita, and settled our bill for drinks and coffee during our stay. Sebastian showed us a video he was putting together from footage he had shot on the islands and we were impressed by how professional it looked. We had planned to spend our last night together at Beto's Beach Bar, and made plans to meet Sebastian there in a little while.
<br/><br/>
Craig and I walked out the back door of the hotel and onto the beach. We strolled through the soft, powdery sand by moonlight, and it was quite surreal. We passed the jetty and it seemed that the building at the end of it was a bar, as We could hear some music coming from there. We continued down the beach and saw the tree with bottles hanging from it that distinguished Beto's Bar from the surrounding houses. The bar is the open-air lower level of a beach house built on pylons. The bottom level only had two walls and the rest of it was open to the beach and the sea. The structure was actually built around some tall palm trees (square holes in the construction let the trees grow through to the top floor). Tables were large wooden wire spools, and we chose one on the sand. I immediately took my shoes off and buried my toes.
<br/><br/>
American music was blaring. People started to arrive and hang out by the bar. Both locals and tourists mingled here. Sebastian arrived, soon followed by Omar. The boys shared large bottles of Pilsener, and I drank piña coladas. I went down to the water line to try to get a photo back at the bar which was lit by red, green, and blue lights. After a couple of hours, the music changed to a Latin flair and suddenly folks were dancing and the party was in full-swing. We met Alberto, the proprietor. We were having a great time. There was a small outbuilding where the bathroom was located, and a light came on to indicate when it was occupied. We would wait for the light to go off and then head over to use the bathroom, only to find a line of people who had also done the same thing.
<br/><br/>
By the end of the night I had had 5 piña coladas, and Omar was egging me on for a sixth."Seis!" he shouted. I told him he was witness (from earlier today) that I fall down even when sober, so it probably wasn't a good idea. We all had a good laugh at that. We stayed until the place closed at 12:45, when Alberto called it a night and sent everyone home. I bought a T-shirt which, after paying the tab, totally emptied Craig's wallet. The piña coladas were not cheap, but I can't help it that I'm allergic to beer!
We walked down the beach back to the hotel and were asleep as soon as we hit the bed at 1:15.