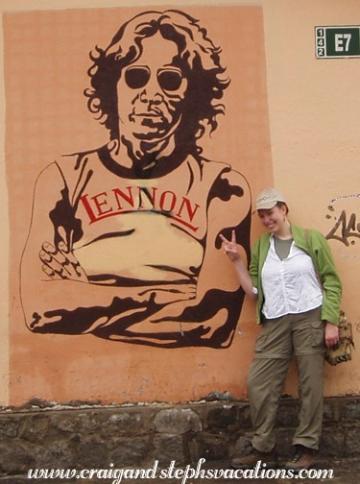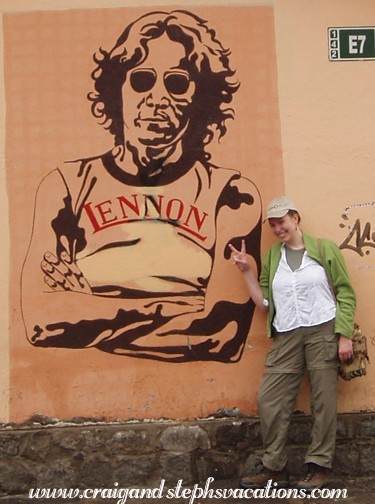 We woke up at 6 am and got our things packed for the flight back to "the continent." We met Sebastian at 7:30 for a breakfast of juice, scrambled eggs, and coffee, and got a ride to the airport at 8:15. We checked into the tiny airport and sat with a few other passengers while they prepared the phe windows.
<br/><br/>
We landed in Baltra and Sebastian checked us in for our 11:00 flight. We said our goodbyes and waited to board. It was incredibly hot at the airport and we waited on a bench in a part that was open to the outdoors. At 10:55 they let us into the departure area, which was closed in and even hotter. We were lucky to find seats and it was absolutely sweltering. At around noon they let us board the flight. The guy next to me refused to put his seat upright. Even when the flight attendant asked him to do it he wouldn't, and made her do it instead. The plane was full of people who had taken sea-based Galapagos trips, and we heard stories of many of them having gotten sick.
<br/><br/>
We arrived very weary in Quito at around 4:00 pm. Guillermo the driver met us and we were instantly back to civilization, which was a bit of culture shock. He brought us back to <a href="http://www.eugeniahotel.com/en/about.htm">Hotel Eugenia</a>. We were feeling quite lazy and watched TV for a few minutes. I didn't know if I had the energy to go out and we contemplated eating at the hotel. But we roused ourselves and decided to take a short walk to find someplace nearby to eat and perhaps have a drink.
<br/><br/>
On our way down to the lobby, we looked at some of the souvenirs they had on display at the hotel, and decided to buy a small-scale Virgen of Quito statue as well as a few other trinkets. The very friendly and helpful hotel proprietors had me inspect the items and then they wrapped them very carefully in newspaper and gave us a cardboard box in which to carry them. We ran them back up to the room and then headed out on the town.
<br/><br/>
We walked around Mariscal and most places were deserted. I think we were out before most places opened, or maybe it was that it was a Sunday night. We found a brick oven pizza place open, but we didn't really feel like that. Craig wanted to go toward Mama Clorinda and check out the happening restaurant next door: La Boca del Lobo. This was a great idea, and we went inside. The place was an old house which had been turned ultra-modern. Glass walls had been added to create a porch overlooking the street, and the decor was extremely funky. Red and blue lights hung inside of bird cages suspended from the ceiling. Oversized portaits hung in huge gilded frames and it looked like something from Alice in Wonderland. It was hip and trendy, yet comfortable and inviting. We got a seat overlooking the street which made for fun people watching. Bagels made of glass hung from one wall, and mosaics of mirror and metal hung behind us. There were propane heaters on the glassed-in porch, as the glass walls stopped several inches from the ceiling.
<br/><br/>
The waitress brought us menus that had metal covers and were about 3 inches thick. They had photographs of the food and were in English as well as Spanish. Everything looked so good! As a drink I got a "vainilla sunrise" (Absolut vainilla. grenadine, and orange juice) and it tasted delicious! After poring over the menu several times through, we decided on an appetizer and meals. For an appetizer, we got chicken brochettes which were mini skewers of chicken wrapped in bacon served with warm french bread and dijon mustard. They were delicious and very artfully presented.
For my meal, I got the "ferocious chicken" breast with cream cheese, chives, ham, white wine, and tarragon with french fries. Craig got the Dutch mini filet mignon wrapped in bacon with red wine and mushroom sauce and Dutch potato with ricotta and herbs. It was decadent. We felt that this was one of the best meals we had ever had. We could see Anthony Bourdain coming here as he eats his way across Ecuador. They must have a very talented chef here. The place was packed with people, so it obviously had a great reputation. Although it was a large restaurant, it was in an old building, so everyone sat in small rooms and it felt intimate while still seating a lot of people. Some rooms had regular tables and some had couches. We really wanted dessert but were quite full so we decided to share orange crepes with vanilla ice cream. It was so good!
<br/><br/>
At around 9:30, we walked to <a href="http://www.magicbeanquito.com/">Magic Bean&ltgt; to get some pastries for tomorrow morning. The place was pretty dead and we caught the bakery clerk dancing to a Green Day song on the radio. His friend started cracking up and we said we wouldn't tell anyone. We bought apple blackberry muffins with buttercream frosting for the morning. We saw a lot of police around, and signs warning would-be thieves, drug dealers, and prostitutes that there were surveillance cameras in place. Indeed, we noticed a camera on the top of a telephone pole, panning across the streets. An insincere-sounding guy from California tried to beg for money from us. He claimed that he had been robbed, but other tourists told him he had approached them with the same story once before in a different city. It seemed like he was the type of person who was begging from tourists as a way to sustain his own vagabond lifestyle. If we were to give any money to beggars in this city, it certainly wouldn't be to this guy! The streets were pretty deserted, and we felt a bit paranoid as we walked back to the hotel. We packed our bags, and went to sleep.