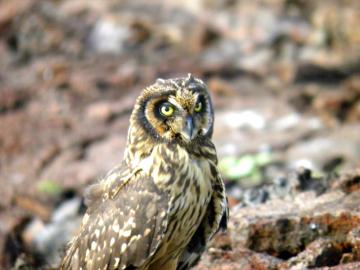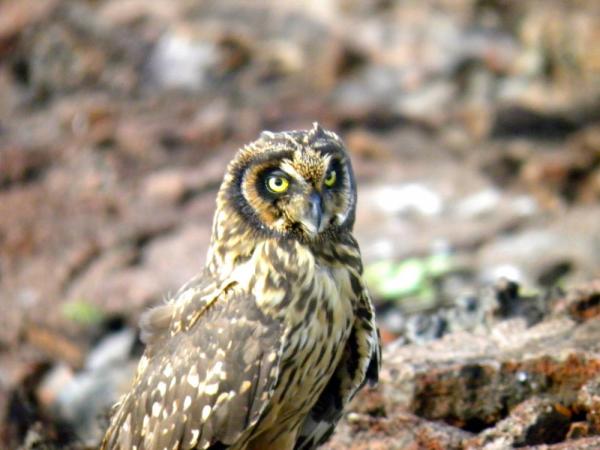 The trip to Fernandina took all night. Our first excursion of the day was to the island via panga landing on lava rocks (very slippery...always listen to your guide when they suggest what shoes to wear) and greeted by marine iguanas and sea lions. This is a very large lava field where hundreds of iguanas and crabs live. There were many sea lions and also flightless cormorants. In the lava field you could see all of the details of how the lava flowed and then cooled. Truly unique. Even though it was a cloudy and breezy day, the ground was warm to the touch. We saw a galapagos hawk at the top of a tree. There were many bones around as well as a couple of iguana skeletons. On the edge of the island were red and white mangroves.
Our second excursion of the morning was deep water snorkeling. Everyone wore wet suits as this was fairly cold water. When you first got in the water seemed very cold but the wet suits did the trick and made it comfortable. We saw cormorants diving and at least 10 sea turtles. The water had a bit of current but we were able to get close to the turtles. A few sea lions were swimming around very close to us as well. We saw a blue sea star and a chocolate chip sea star along with many fish. We were able to swim near the cormorant breeding area and see the nests up close.
After lunch we headed to Isabela. This took a few hours. With the weather still cloudy, it seemed prime time for a nap in our cabin. The afternoon excursion was a panga tour of Isabela.
The panga tour went through the mangroves of Isabela. The water on the way to and from the mangroves was very rough but not for that long. We saw a few penguins as soon as we entered the mangroves, but they kept going underwater and we couldn't get a good picture. Past the penguins, we saw a great blue heron on a branch. As we continued through, we saw a lot of sea turtles both swimming and resting on the bottom. We saw a yellow warbler and another type of heron. On the way out we saw more penguins. We also saw some blue-footed boobies diving.
When we retuned the chef greeted us with shredded coconut balls and plantains with cheese. (Each day we had a great snack and cold beverage when we returned from our afternoon excursion)