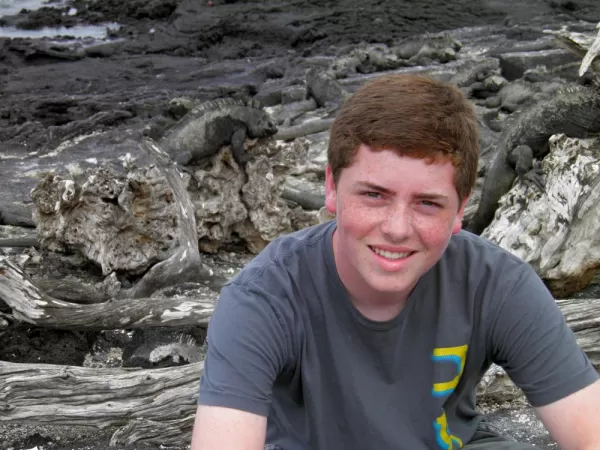 Urbina Bay
We took the panga and had a wet lnding on a black sandy beach. We took a nice long hike on sandy and rocky trail. This is where we got to see at least 10 giant tortoises and as many or more land iguanas. The area we were walking on was underwater 50 years ago but volcanic uprising made lifted it out of the water. How cool is that? There were huge pieces of coral on dry land. We hiked back to the beach and went snorkeling. While snorkeling, we saw a sea turtle that was very friendly and let me swim with him for a few minutes. I saw a penguin but just for a second because they are so fast. Then back to the boat for lunch.
Tagus Cove
We went snorkeling along the cliffs of a small cove. Didn't see much at first except for a sea turtle and some starfish. But a bit later, we started seeing a lot more fish and then what looked like a barracuda. We finally reached a rock that had 6 penguins and 2 sea lions on it. The sea lions swam around with us until we moved on. We kept going and saw some flightless cormorants that were diving for food so we could watch them above and then as the dove below the water. We found another rock with a half dozen penguins and a few sea lions. One of the penguins got knocked into the water by a wave and ended up swimming right near us, but he was too fast to keep up with. We took almost an entire underwater disposable camera's worth of pictures of penguins.
We went back to the boat to get ready for the panga ride along the coast of Isabela and saw lots more penguins and blue-footed boobies. We saw some cool caves and a cormorant eating a small octopus - amazing to say the least. We also saw sea turtles, pelicans, a Galapagos hawk, and noddy terns. This time, the boat caught up with us and we got on board. Today's snack was a sort of pizza..Delicious.