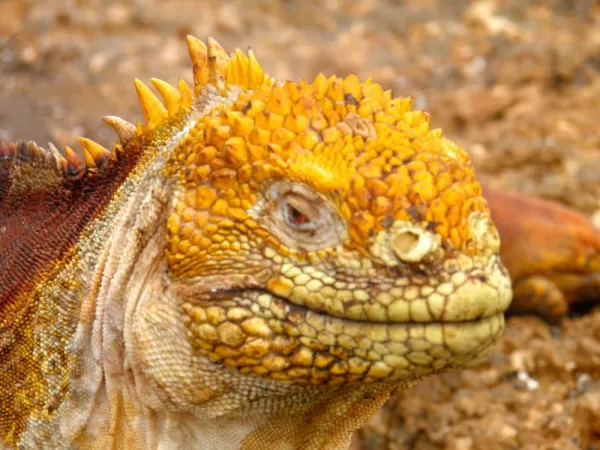 We took a bus to the highlands to see a unique sunken volcano formation and then to the Charles Darwin Research Center. We got to see Lonesome George along with many other giant tortoises. We walked through town on the way back and got a chance to have some ice cream.
Santa Fe - here we did a short walk on the island and saw a large group of LARGE sea lions on the beach. The vegetation was mostly cactus and low shrub type plants. We saw a few iguanas and birds but mostly sea lions were the attraction. Some were in our path and Pepe, our guide, had to get them to move so we could get back to the beach. The have very loud barks! We then went on a deep water snorkel in clear and not too cold water - no not need to wear wet suits. We saw a very large school of sardine like fish - so large that you could not see the bottom thorough it nor the end of it when you were in the middle of it. It was massive. We also got to see 2 Galapagos sharks circling at the bottom under this bait ball. There were also large schools of very small jelly fish which were harmless. We swam across the bay to an area where sea lions were swimming including some baby sea lions who would swim right up to your face mask. It was very cool
Back on board we had had a nice dinner where the adults sat together and the kids at another. We hung out for a while and shared email addresses so we could share photos, etc.